My name is Marion, I'm a slutwife with a never ending hunger for cocks. Welcome to my life! I'm no girl of the industry, I'm a real woman, a real wife that loves to have fun with guys. Lots of guys. The more the merrier. Call me a true gangbang cum slut... I'm happy about that.

I started swinging 20 years ago and quickly my husband started to take pics and videos from all my kinky escapades. I had my first gangbang in 1997, my first gangbang with 20+ guys in 2000, my biggest gangbang was a party with over 100 guys. By the time I'm writing these words over 5000 guys have fucked and creamed me... and I'm still counting since I'm still doing dogging and gangbang escapades frequently.

On my website you always get TRUE REALITY PORN. Nothing is staged here. There are no scripts, no actors. My escapades take place at real public locations, such as Adult Theaters, rest areas, public beaches, clubs and pubs and so on. Most of the guys using/fucking/creaming me are real strangers... guys I've never seen before. Now lean back and enjoy my naughty swinging life. [read more]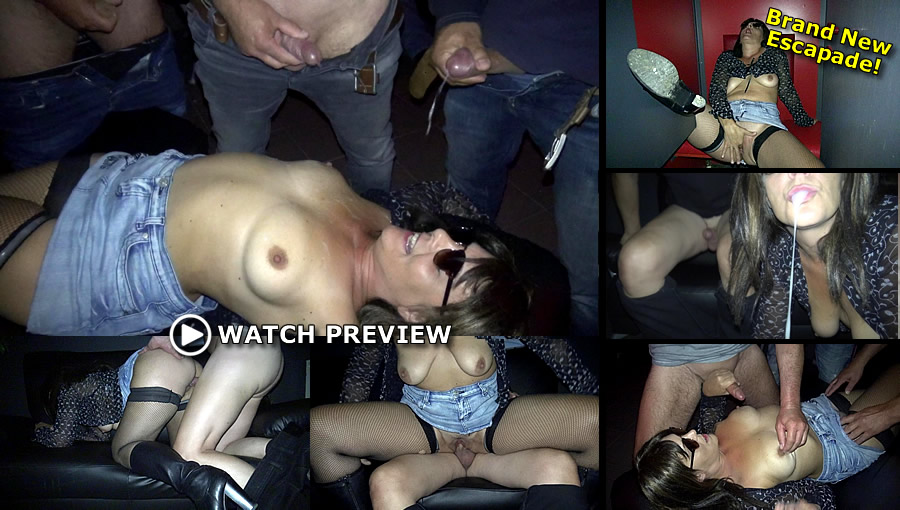 As promised here is the corresponding movie to the photo set we have uploaded earlier this week, displaying a brand new Adult Theater escapade which was shot on June/21/2018. Eventually I wanted to go dogging that day, but it the weather was bad and so I changed the plan immediately and drove to my favourite local Adult Theater, the X-Posed Theater at the highway. I hoped to find some cock there for some spontaneous fun and I was not disappointed. In this photo set (and the upcoming corresponding movie) you can watch me cruising at the theater for a while. I'm showing off for my husband's camera at a smaller cinema room, then I'm walking to the video boothes where I'm sitting down and start fucking my cunt with my fingers. Meanwhile there's a large group of guys standing behind my husband and watching me. As usual I'm the only woman at the theater and so I have their undivided attention. Some of them even get out their cocks and start wanking themselves and now I know it's time for some spontaneous fun. I'm walking back to the cinema room, sit down at one of the chairs and let the things start happening. To cut a long story short: At this room I now get used by over 10 different guys. Some get sucked off, some just jerk their loads on my body, two of them are barebacking me. I guess you know that I just love to be a cum dump for everybody at places like these ;)
Details: Duration 24 min. Format MP4. Quality Full HD and SD (1000 and 200 MB). Download and stream.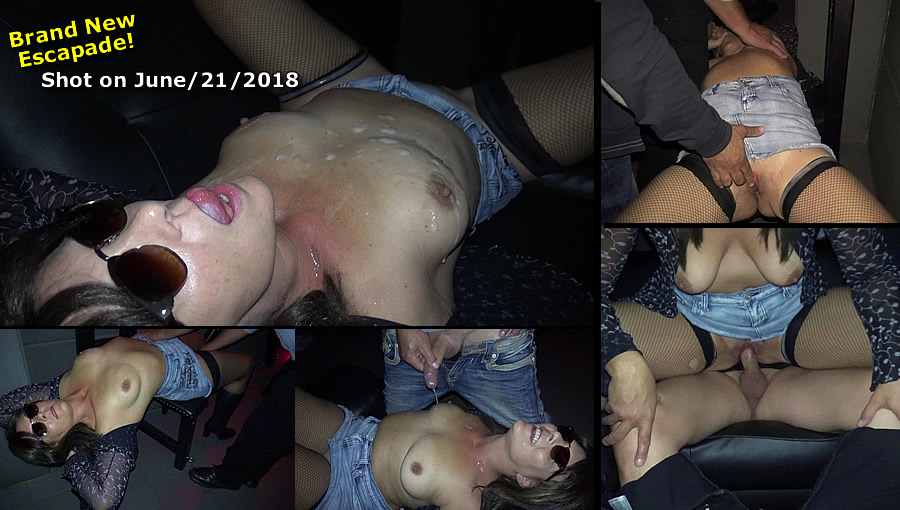 Back at the X-Posed Adult Theater. This is a brand new photo set containing more than 100 pics shot just a few days ago, on June/21/2018. Prepare your cock for the corresponding movie which is coming later this week. Eventually I wanted to go dogging that day, but the weather was bad and so I changed the plan immediately and drove to my favourite local Adult Theater, the X-Posed Theater at the highway. I hoped to find some cock there for some spontaneous fun and I was not disappointed. In this photo set (and the upcoming corresponding movie) you can watch me cruising at the theater for a while. I'm showing off for my husband's camera at a smaller cinema room, then I'm walking to the video boothes where I'm sitting down and start fucking my cunt with my fingers. Meanwhile there's a large group of guys standing behind my husband and watching me. As usual I'm the only woman at the theater and so I have their undivided attention. Some of them even get out their cocks and start wanking themselves and now I know it's time for some spontaneous fun. I'm walking back to the cinema room, sit down at one of the chairs and let the things start happening. To cut a long story short: At this room I now get used by over 10 different guys. Some get sucked off, some just jerk their loads on my body, two of them are barebacking me. I just love to be a cum dump for everybody at places like these. Stay tuned for the corresponding movie which is coming this Friday.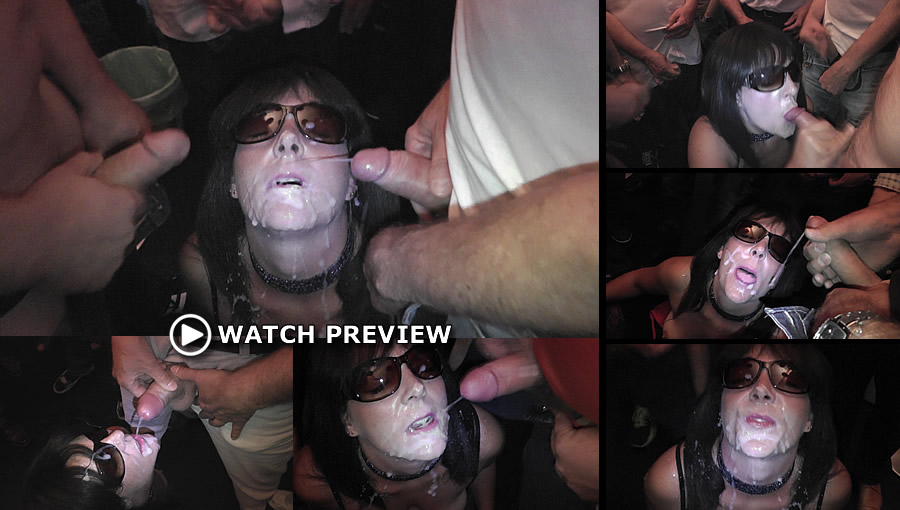 This was filmed by my husband during a sex party at a swingers club. In this movie you can watch me being center of attraction for the entire male audience once again. This club was totally overcrowded, dozens and dozens of cocks hanging around there and only a few other couples, a true paradise for me. But at that moment there was no other girl in sight who wanted to entertain all these yummy hard-ons that were surrounding me. So I quickly went down on my knees, played with my tits and told some of the guys nearby that here is a girl who wants it really bad. I wanted to get used as a true cum dump and needed tons of cum. You know my motto: The more the merrier. So, I was crawling around on the ground most of the time, always surrounded by a wall of cocks. At the end of this bukkake session I had 38 loads on my face. Yes, that's right. 38 yummy cumshots jerked on me within a range of only thirty minutes. In this movie you will see each of these 38 loads. There's even a cumshot counter in the movie, proving that I don't lie. Oh my! I just love to get used like this!
Details: Duration 21 min. Format MP4. Quality HD and SD (680 and 180 MB). Download and stream.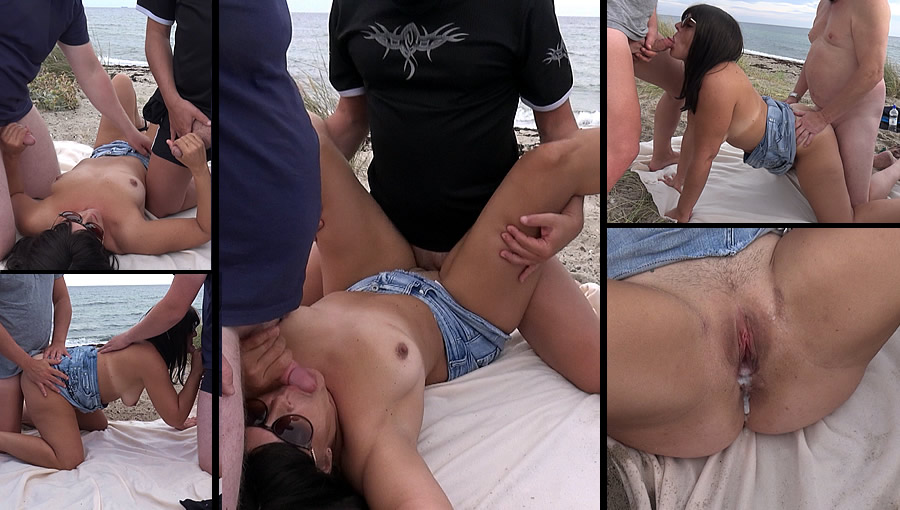 Another set with nearly 100 brand new photos shot during one of my beach vacations. This was surely one of the most hottest days I ever had on a public beach. After I had attracted attention by parading and showing my tits on the beach, two guys were standing at my place and some more were lying on their towels a few stepes away, staring at me but still hesitating. I told those two men I just want to have fun and once they agreed my husband gave them masks to put on, because he wants to caught it all on tape. I began to suck off two of them, a third one joined the party quickly and then they were all mounting me. A short break, then a new guy and one of the predessors nailed me again. One of them shot his load in my mouth and one in my puss. Photo set ends with another threesome where a new guy - an older man, probably about 60 years - is fucking me and then one of the predessors is breeding me. The entire action was filmed right there on the beach, with a direct view on the water. That's what makes these pics so remarkable. You can watch me getting fucked by casual encounters with the ocean in the background all the time. Just awesome. In the member area you'll also get the corresponding movie of this hot day on the beach.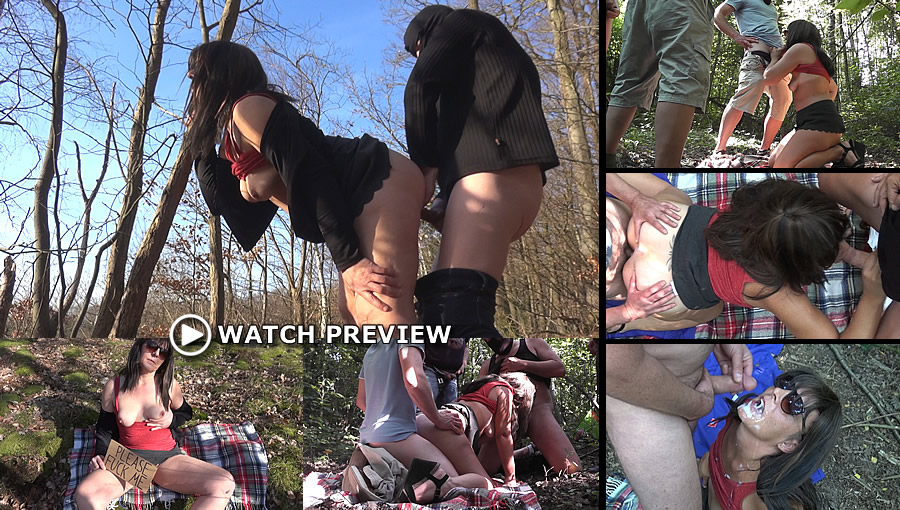 This is the second movie my husband has filmed during this awesome afternoon at the public park, where I got banged by 10 different strangers within a couple of hours. This movie displays the second half of the bang and as you will see... now this dogging escapde really reaches its climax. You know, there is this park, a discreet place not far away from my hometown, which is known as a dogging spot and where I used to have some dogging fun. In most cases I had found one cock or two to have fun with at one of the park benches or in the bushes, but usually this was not a very busy place. This time I came up with the idea to write me a sign with the words PLEASE FUCK ME on it. Yes, I know, that's really explicit, but I didn't want to waste time or let a cock passing by without noticing that I'm a hot fuck slut ready to get banged. This time I wanted to have fun with as much cock as possible. Now, when you are watching both movies with a total duration of 60 minutes you will see that I was totally successful. I never got banged by so many guys at this place before, so I can say: Mission accomplished ;)
Details: Duration 30 min. Format MP4. Quality HD and SD (850 and 230 MB). Download and stream.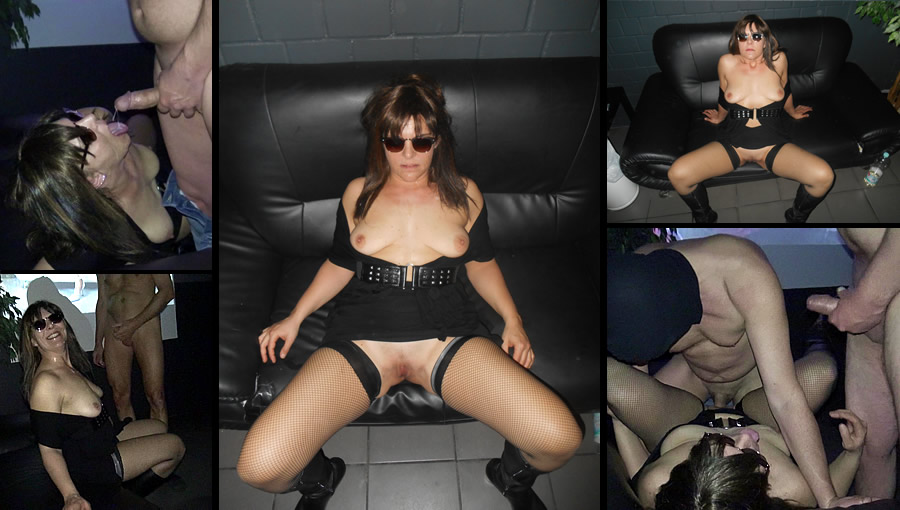 This photo set contains a mixture of high quality photos and stills from the video, showing me getting used and abused by plenty of strangers at one of the local Adult Theaters. Eventually I wanted to go dogging outside that day, but the weather was too bad to visit the local outdoor spots. But I was hot and wanted to get me some cock and cum and so I drove to the Xposed Theater, where a slut like me always find what she's looking for. This theater has a couple of gloryhole boothes and a few bigger rooms with cinema screens, where you can watch the hot movies. I placed myself at one of those cinema rooms. Remember, I didn't post that at the party scheduler or anywhere else, everything that followed now was raw and spontaneous fun. I expected to find maybe two or three guys who are willing to give me their cocks and cum... but way off the mark! That evening I got a really HUGE bang with lots of strangers fucking me or getting a blowjob. Partly there were up to 8 guys with me in the room, waiting for their turn. Guys who had cum drenched me left the room and were quickly replaced by next ones. Don't forget to watch the corresponding movie you'll also find in the member area.

This was absolutely stunning! Eventually I wanted to drive to my favourite swingers club to have some fun there on the next Friday and I wanted to be escorted by my husband, as usual. But as the day came Hubby had a bad cold and didn't want to leave the house. I said: "Okay, then let's stay home", but he answered: "No, you wanted to have fun, you should have some fun, so just drive to the club and get some cock without me." Furthermore he said he wanted me to get laid down by the entire audience, if possible and that I should try to caught the whole bang on tape, if possible, so that he can enjoy it later. Well, I have done many kinky things, but a plan like this was new... even for me. First I hesitated, but on the other hand I was really hot and so I finally decided to make it happen. To cut short, once arrived at the club I placed the cam behind me and then I told the nearby guys they can use me if they wish. During this night I got fucked by over 20 guys and as will see in the final scenes of the movie: Yeah, I got fucked by the entire audience. At the end of the bang there was no more cocks in the club. By the way, the first few guys noticed the cam, but had no complaints and used me nevertheless, but all the later cocks didn't know they got caught on cam and that's what makes this movie so different. It's just a true gangbang, with nothing staged or directed, it's totally uncut and raw. Enjoy.
Details: Duration 25 min. Format MP4. Quality Full HD and SD (750 and 200 MB). Download and stream.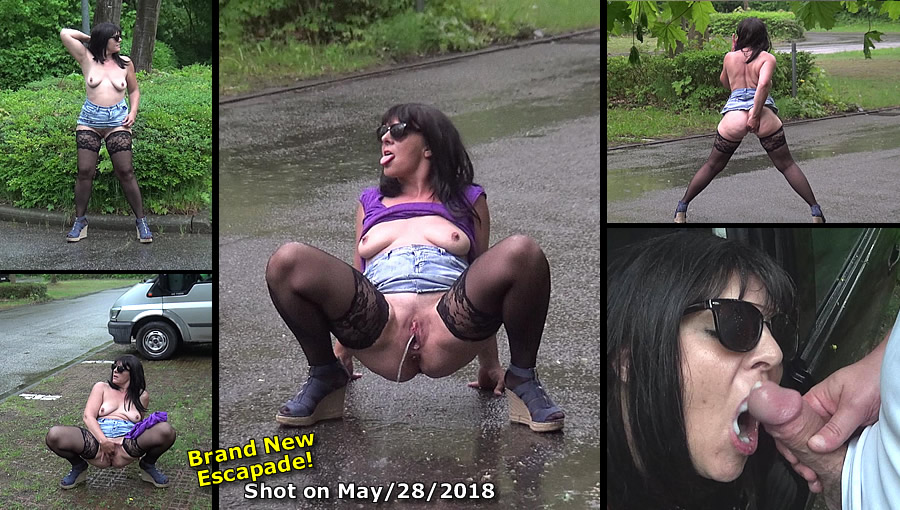 This photo set displays a brand new outdoor escapade once again, shot on May/28/2018. And what a crazy day this was! Eventually I wanted to go dogging at this rest area. You know, looking for some cock, looking for some cum. But just as I arrived a heavy rain hit the place, quickly followed by a gigantic thunderstorm. Certainly it meant there were hardly any cars at the rest area and absolutely no other doggers dogging around. No guys, no cocks, no fun? Well, no! Faster than light I was out of my car, took off my top and walked bare-breasted through the rain. My husband started filming me doing this spontaneously and while the rain falled down I totally freaked out. I went down on my knees and let my bladder loose, I walked from one end of the rest area to the other, now only dressed with black stockings, shoes and a mini skirt and at the end I was completely soaked. And that was such a great feeling! At the end I even got what I was looking for... a huge load jizzing in my mouth. Well, although I didn't find any doggers at that place I really had a good time. Well, you want true reality porn, where absolutely nothing is staged and where everything you are watching is genuine? Then just follow me and my escapades!
| | |
| --- | --- |
| | |
...YOU CAN ALSO CHECK OUT THESE PAGES FOR MORE HOT STUFF...
********************************************************************
Billing Support: CCBill
18 U.S.C. §2257 Records - Customer Support - Webmasters click here to make $$$ - Banners - Links
© Copyright 2001-2018 cumdrinkingwife.com. All Rights Reserved.