My name is Marion, I'm a slutwife with a never ending hunger for cocks. Welcome to my life! I'm no girl of the industry, I'm a real woman, a real wife that loves to have fun with guys. Lots of guys. The more the merrier. Call me a true gangbang cum slut... I'm happy about that.

I started swinging 20 years ago and quickly my husband started to take pics and videos from all my kinky escapades. I had my first gangbang in 1997, my first gangbang with 20+ guys in 2000, my biggest gangbang was a party with over 100 guys. By the time I'm writing these words over 5000 guys have fucked and creamed me... and I'm still counting since I'm still doing dogging and gangbang escapades frequently.

On my website you always get TRUE REALITY PORN. Nothing is staged here. There are no scripts, no actors. My escapades take place at real public locations, such as Adult Theaters, rest areas, public beaches, clubs and pubs and so on. Most of the guys using/fucking/creaming me are real strangers... guys I've never seen before. Now lean back and enjoy my naughty swinging life. [read more]


This is the second movie filmed by my husband a couple of weeks ago at the public bar, displaying the second half of this awesome spontaneous gangbang. Of course this bang happened outside the bars business hours. You know, this is the place I'm visiting occasionally when I want to get me some cock and cum. I know the owner (his name is Jack) of that bar for many years now and he always helps me out when I want to host a gangbang for my members by providing me the bar. But what I really never had done at that place is to get a gangbang at the counter, right there where Jack usually stands and gives out the drinks. In the first movie you could watch me getting fucked by Jack at first and then a few guys replacing him, fucking me, creaming me. Now in this second movie, the entire crowd is using, everybody who is in the bar at this moment is using me. That was a true spontaneous gangbang at the counter, with 13 guys all in all, standing in line, fucking me one after another and shooting their loads on my face, in my mouth and in my puss. As I said before... this was like a fantasy coming true... me as the bar maid, getting fucked by the entire audience. I loved it.
Details: Duration 20 min. Format MP4. Quality Full HD and SD (850 and 180 MB). Download and stream.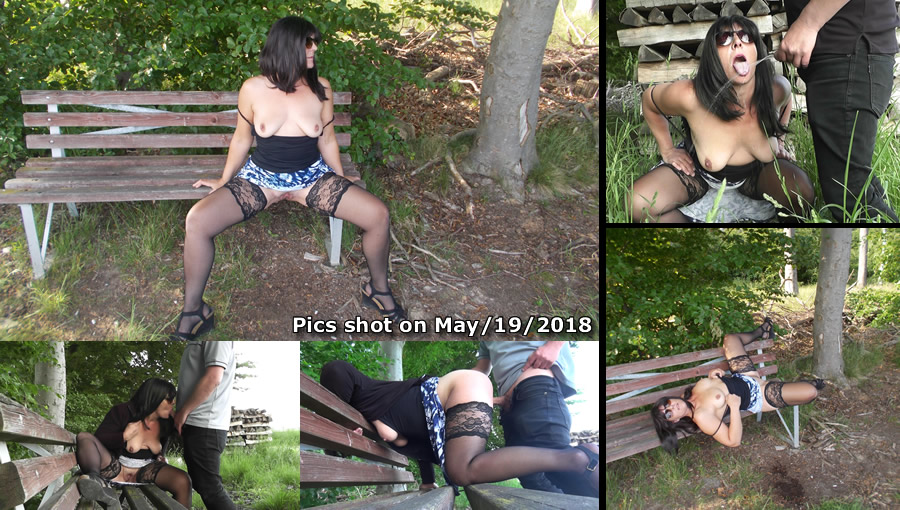 Beside my swinging, gangbang and dogging escapades where I usually get laid down by multiple cocks I just love to explore new places or to have fun at crazy public areas that are really not intended to be the place for my most recent porn movie or photo set. This set of brand new photos were shot only a few days ago, on May/19/2018. Actually I was on the way to a more busy dogging spot to have some fun. My husband drove the car and a friend of us escorted us, a guy named Carl, who sometimes escorts me when I go dogging. But then I saw that small road leading upwards to a wooded area on a hill. Before I we had missed the exit to the road and so I told my husband to turn a car around since I wanted to explore that place. Once arrived I saw that this is kind of a scenic outpost with a great view on the surrounding country. A few benches to relax and enjoy the view. I love benches... but not to enjoy the view! To cut a long story short: There were no other people, except two more cars standing at the forest edge at some distance, so it was a perfect place to have some spontaneous fun. My husband started to shoot lots of photos of me sitting and lying on the bench and then, during the next two hours both guys used me multiple times, including some kinky bizarre fun. Just look at the preview pic to see what I mean ;)

Last week I had a few days off and decided that it's time for another short vacation at the sea. We gave you a first photo set from this vacation earlier this week, now here is a movie that was filmed a little later the same day. I returned to the nude beach where I have had a gangbang in 2015 and 2016. This place is probably the best beach I know to get laid down by strangers in the dunes or on the beach itself. It's never a busy place but it's known as a dogging spot and so I know that there are always guys hanging around in the dunes who are probably looking for casual sex with girls like me. The movie starts with me attraction attention in a very offensive way, you can even watch me walking to a guy lying on the beach a few metres away and inviting him to use me. Then I start sucking off a first cock and quickly I am surrounded by a group of cocks. I just love that, having a cock in my mouth, then switching to the next one and so on. Some of the guys who were surrounding me were a bit nervous in the beginning, but once I started sucking them they quickly lost their inhibitions. All in all I got laid down by 8 different guys that afternoon. It was an awesome beach orgy where I got tons of cumshots and even some more bizarre nectar ;)
Details: Duration 22 min. Format MP4. Quality Full HD and SD (900 and 190 MB). Download and stream.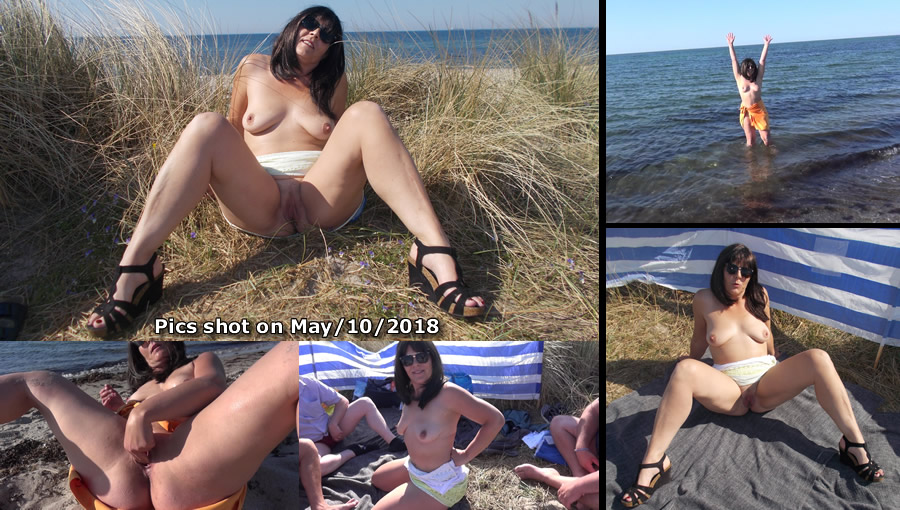 Brand new photo set shot last week. I had a few days off and decided that it's time for another short vacation at the sea. At one of these days I returned to the nude beach where I had a gangbang in 2015 and 2016 and I haven't been back there since. This place is probably the best beach I know to get laid down by strangers in the dunes or on the beach itself. It's never a busy place but it's known as a dogging spot and so I know that there are always guys hanging around in the dunes who are probably looking for casual sex with girls like me. There are always some couples lying in the dunes too, but most of them just want to have spectators, if any, they are usually not looking for casual encounters. But you know, I am a true cum slut and I am ALWAYS looking for cocks to bang me and so it's easy to invite strangers to my place and let them use me. In this first set of photos you can watch me showing off and attracting attention. There are some pics at the end of the set where you can see that I was successful. All in all I got laid down by 8 different guys this time. Stay tuned for the first beach gangbang movie, which is coming at the end of this week.

Before that day I never got banged by so many guys at a rest area. Sometimes there were 5 guys, sometimes 8 or 10 who were using at one of the local rest area dogging spots, but this time over 15 guys fucked me, all of them were strangers I had never seen before. And when I say 'fucked' I really mean that all those bastards put their dicks in my cunt... so I don't count the guys who only get sucked off by me. Ths bang starts in the early evening in broad daylight and ended a few hours later in total darkness. We already have uploaded a movie with the daylight scenes of this escapade, now here is the final movie, displaying the later scenes as it got dark. This time I tried out another and smaller rest area, but which is also known as a good dogging spot. But as I realised quickly, a smaller place doesn't mean there are fewer cocks. At the end of the day over 15 different strangers had used me. As the last one was gone, I was still so hot, I wanted to continue the bang with more cocks fucking me, but there were no more guys at the rest area. I had fucked them all, the entire crowd at that place...
Details: Duration 25 min. Format MP4. Quality HD and SD (780 and 190 MB). Download and stream.

I have found a new dogging spot right next to the highway and this movie displays my first dogging escapade at this new place, which happened two weeks ago, in April 2018. One of my members wrote me a mail and said that he loves my dogging movies, he's a passionate dogger too and he knows many great outdoor spots which seem to be perfect places for a slut like me. This guy told me about this new spot at the highway.Two weeks ago I managed it to try out that place. And my member was right: It IS a perfect place, it's far better than the other dogging spot at the highway that I used to visit frequently. There is a long way leading around a small lake, the lake is surrounded by bushes and there several benches. So, I can perfectly attract attention at the way and the benches and once I have found someone to have fun with, I can slip into the bushes and get some cock and cum. The place wasn't very busy that day, but nevertheless I managed it to get used by six different guys all in all, some of them used me twice, so I would call it a successful dogging day. So, I guess I have a new favourite dogging spot. Stay tuned for more escapades I will do there this year ;)
Details: Duration 20 min. Format MP4. Quality HD and SD (770 and 160 MB). Download and stream.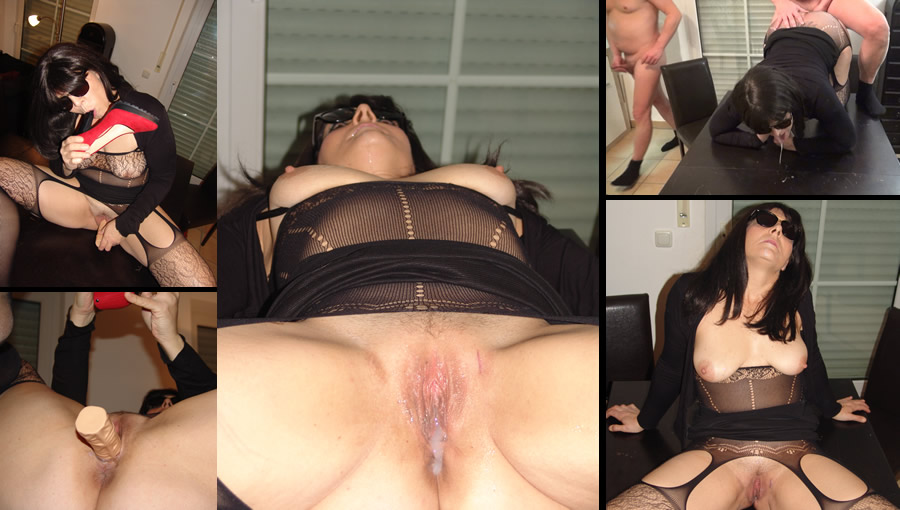 This high quality photo set was shot during a breeding session with 3 guys at home in 01/2018. I have already given you a set of pics from this session, shot by my husband. But the pics this set in were shot by one of the other guys, and he has sent these pics to me only a few days ago. So now, here they are. Three guys were visiting us at home for a little sex party. All of these guys were long time lovers of mine, they all fucked me many times before. I was hot for cock again and so I invited them for a little party at our house. The party began at 8 o'clock and lasted until midnight. During these 4 hours, those three guys and my husband fucked me again and again. I wished to have a true breeding session and so the guys always shot their loads deep in my cunt. All in all I got ten loads in my puss. Only four cocks, but ten creampies... good job guys ;)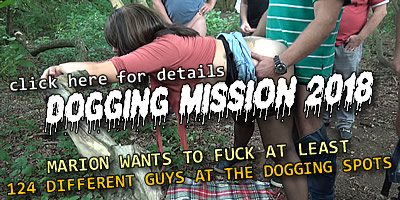 This is more than a brand new escapade, since it has just been 2 days that I was visiting one of the local swingers clubs. Each last wednesday of every month this club has a so-called 'Special Party Night', which is intended for ladies like me, girls who want to enjoy some more cock. Usually swingers clubs take care that the male/female balance is about 50/50, but at this special night the balance is 1 girl on at least 10 guys and only women should enter the doors who really know what a gangbang is. Well, as you might know, I know what a gangbang is and so this is perfect place for me. I'm visiting this club several times a year because it's so simple to get a gangbang there during these nights. I don't have to attract attention, I don't have to talk to anyone, I only have to put on my slutty clothes, my stockings and boots, entering the main party room, opening my legs and then I am surrounded by a horde of willing hard-ons within a minute. This time I got laid down by 15 guys within 45 minutes, most of them strangers I had never seen before, I knew only a few of them from previous party nights. Now here is my most recent gangbang escapade, it's the full movie, all my husband has filmed that night. Enjoy.
Details: Duration 20 min. Format MP4. Quality HD and SD (800 and 150 MB). Download and stream.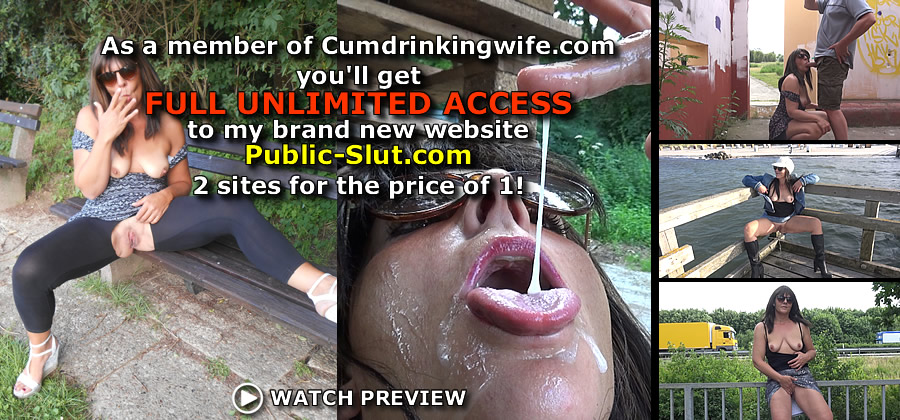 I'm proud to announce a brand new website today and giving all members of Cumdrinkingwife.com a huge improvement! The new website is called Public-Slut.com and members of Cumdrinkingwife.com have free and unlimited access to this brand new site! From now on, as a Cumdrinkingwife member, you'll get 2 sites for the price of 1 !!!
The public-slut.com website contains plenty of movies and photo sets showing me flashing in public, solo or with 1 or 2 guys escorting me, masturbating, peeing or having sex in public and doing risky things like public cum walks. The content of the public-site.com website is completely different from the content of the cumdrinkingwife website. So, you won't find a cumdrinkingwife movie on public-slut.com and vice versa.
From now on you'll always find a page with the login details to the public-slut website in the member area of Cumdrinkingwife.com
Click here to read more about my new website and the reasons why I have launched it.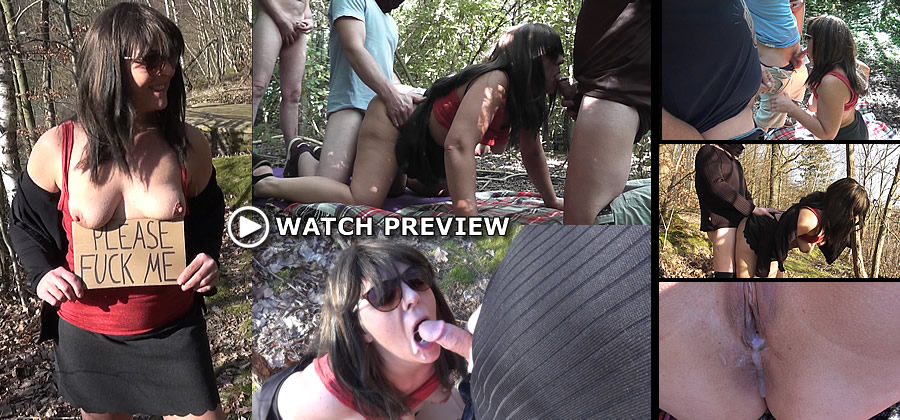 One week ago I gave you a first set of photos of the dogging escapade filmed on April/06/2018, now here is the movie. You know, there is this park, a discreet place not far away from my hometown, which is known as a dogging spot and where I used to have some dogging fun. In most cases I had found one cock or two to have fun with at one of the park benches or in the bushes, but usually this was not a very busy place. This time I came up with the idea to write me a sign with the words PLEASE FUCK ME on it. Yes, I know, that's really explicit, but I didn't want to waste time or let a cock passing by without noticing that I'm a hot fuck slut ready to get banged. This time I wanted to have fun with as much cock as possible. Hubby began to film me solo as I started playing with my tits and cunt and holding the sign. Only a few minutes later we had a spectator, standing a few steps away down the path and watching us. I showed him the sign... and I learned that it makes the things much less complicated. Quickly I sucked him off and then he did what the sign had told him. But this guy was only the first one who used me that day, many more followed, partly there where up to four guys surrounding and using. All in all I got fucked by 10 different guys that day and got some huge loads in my mouth and puss.
Details: Duration 30 min. Format MP4. Quality HD and SD (900 and 230 MB). Download and stream.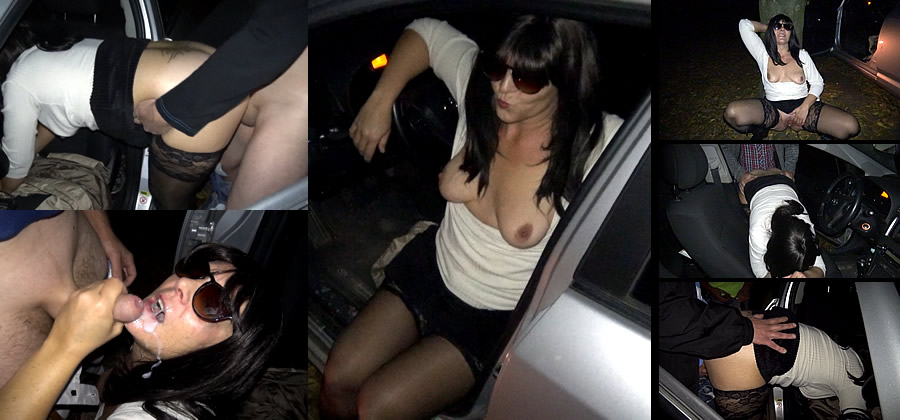 This set of photos with nearly 100 pics displays one of my most recent dogging escapades at the highway car park, caught on tape a few months ago. As I arrived at this dogging spot it was late in the evening, so it was pitch-black as I began to cruise around. The movie starts with me cruising at the car park at the highway and in the background you can see the headlights of the cars rushing on by. I saw a few guys noticing me in the dark and once I had attracted their attention I walked back to my car, sat down on the drivers seat and left the door open. Now I sat there with bare tits, which is always a good signal for the guys that I'm ready for a good time. The first few guys approached and after the usual agreements ('yes, you can use me, but hubby will caught it on tape, without your faces'), the first guy started fucking my mouth and then he banged me doggy with my ass up in the air and me bent-forward in the car. This way seven more strangers banged me, so I would say I really had a good time. Don't miss the corresponding movie which you will also find in the member area.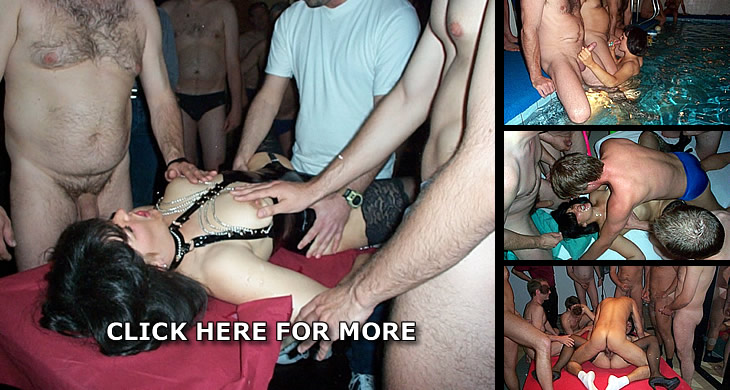 We have launched a huge member area upgrade: The member area is now fully optimized for all mobile devices, as well as for PC and Laptop. When you now enter the member area you can choose between the member area for PC/Laptop or the member area for Mobile Devices. Both member areas contain all videos, photos and stories of course. CLICK HERE if you want to see some screenshots of the new member area optimized for mobile devices. Furthermore we have improved the EARLY YEARS video page. There are now tons of new videos from my very early years on this page. It's now in chronological order. My first porn video ever, my first threesome ever, my first gangbang and so on. I was 18 years as I did my first homemade porn videos and now all those early videos are online!
CLICK HERE if you want to see a detailed listing of all improvements and the corresponding screenshots.
...YOU CAN ALSO CHECK OUT THESE PAGES FOR MORE HOT STUFF...
********************************************************************
Billing Support: CCBill
18 U.S.C. §2257 Records - Customer Support - Webmasters click here to make $$$ - Banners - Links
© Copyright 2001-2018 cumdrinkingwife.com. All Rights Reserved.