My Name is Marion, I'm a slutwife with a never ending hunger for cocks. Welcome to my life!

I'm no girl of the industry, I'm a REAL wife and I have sex with REAL men, not actors. So this is a REAL site about my life. And my life is about having sex with as many guys as possible. I'm cruising the nation to suck off and fuck every guy I meet. I love to eat cum. I love gangbangs, I love bukkake, the more cocks and cum the merrier.

There are no staged settings, NO FAKED PLACES, only real guys fucking me at real public locations, such as adult theaters, pubs, bars, clubs, carparks, woods etc. My husband always escorts me, he loves to film all the dirty things I'm doing with the many 100s of cocks. [read more]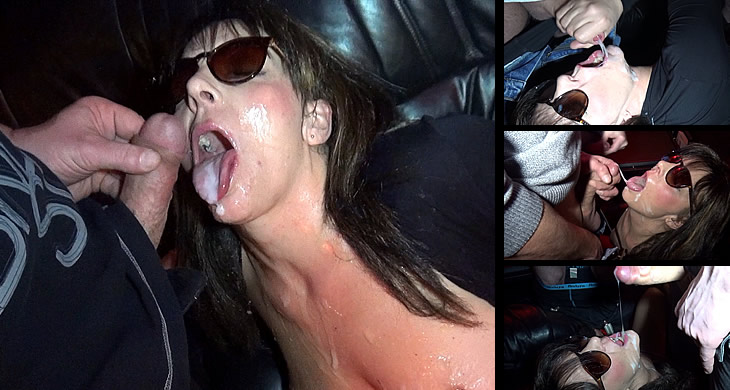 These photos were shot earlier this year at a swingers club. Prepare for the corresponding movie which is coming this Friday. I really like swingers clubs which have special gangbang or bukkake nights, parties intended for sluts like me who need some more cock and cum. These photos and the movie were taped during such a party night. This time I wanted to swallow as much cum as possible once again. It's so easy to get me some cock and cum at places like these, the guys even don't care about the recording cam of my husband, they only see me on the ground or on the couch and only want to feed me. This time I stayed at the club for over 2 hours and all in all I let a total of 20 men use me as their cum dump and getting the same amount of cumshots on my tongue. I'm truly a cum dump, I suck off every cock, small cocks, big cocks, young cocks, old cocks... I love all of them. Note, this one is not scripted and not staged. All of these guys were strangers... although some of them recognized me as 'Marion, the hot cum slut from the web'.

This is the final movie of the gloryhole marathon 2017, which was filmed earlier this year. In the first two movies you can see me sucking and fucking over 10 strangers at the gloryhole and even in the videobooth. Now, after a short break, the marathon continues and I suck and fuck the next 10 cocks. As I've said before, this is totally spontaneous and not staged action, filmed in a real Adult Theater. At this theater there are three boothes next to each other, all three have gloryholes for quick and uncomplicated fun with casual encounters. I went into the middle booth, so now I had two gloryholes, one at the left and one at the right wall. I locked the booth door and then I started serving all guys who sticked their cocks through the hole. I placed a cam which filmed the entire session. What now followed was an improving and totally unexpected GLORYHOLE MARATHON, where I serviced over 20 cocks within 2 hours. The booth was very small and my husband decided to leave me alone, to feel more comfortable. He even left the theater and waited outside in our car. The few scenes where the cam is in hand of someone, were made by my booth lovers, the guys I serviced inside the booth. A big Thanks to all you unknown guys at the hole and in the booth, for making this night so incredible hot!
Details: Duration 22 min. Format MP4. Quality HD and SD (680 and 250 MB). Download and stream.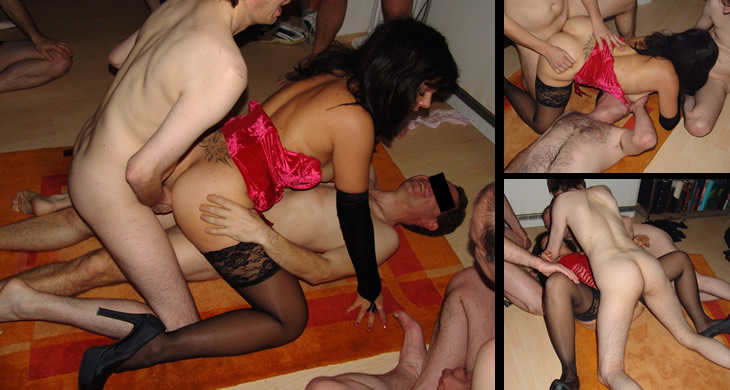 There are really not many gangbang escapades where my husband doesn't film a movie, but this one is one of them. He has just shot these photos, there is no movie from this party. This party took place at a house of one of my long-term members, Richard, a guy I know for years and who had fucked me many times. One day this guy contacted me and said he could offer his apartment for one of members gangbangs. You know I'm doing such a party occasionally, where my members and fans can join the bang to fuck me and cream me in and over. Usually I'm hosting these parties at hotel-rooms or theaters, but of course a more familiar place like a private apartment is always welcome. And so I hosted this member gangbang at Richard's house. I had to limit the number of guys to a maximum of ten. And so I had a great party with 10 cocks, who fucked me all the evening. The action climaxed as I got triple-fucked several times, with cocks in my puss, ass and mouth simultaneously. Just a great homemade gangbang party!

This is another brand new dogging escapade and man, was that hot or what? Three days ago I gave you photos of what happened on September 27, 2017 during my short vacation at the sea. But these pics were made in the afternoon, in this movie you can see what happened a few hours later, in the late evening. I was dressed very slutty as I arrived at this place, a late night dogging spot we had read about in the web. I was cruising this place, especially the large public toilet, with several cubicles. I was trying to attract attention and saw a guy notcing me. I entered the door to one of the cublicles, showing my tits and cunt. I placed a cam on the ground, let the guy come in and closed the door. I undid his zip, pulling out his cut hard cock and sucked him a while, before I placed his cock against my soaking cunt. He filled me up and when he pulled out the sounk ran down, out fo my cunt. He left and a second guy in his 30's came into the cubicle. I turned around, he fucked my cunt and arse and gives me a second creampie. Then a third guy replaced the second one, fucking me missionary while I was sitting on the toilet bowl. All three guys now took turn and used me for the next one hour or so. And the cam recorded most of the stuff. Now here is the first movie filmed that night, where you can see all three guys shooting their spunk in my cunt. A second and final movie is coming soon.
Details: Duration 22 min. Format MP4. Quality HD and SD (700 and 150 MB). Download and stream.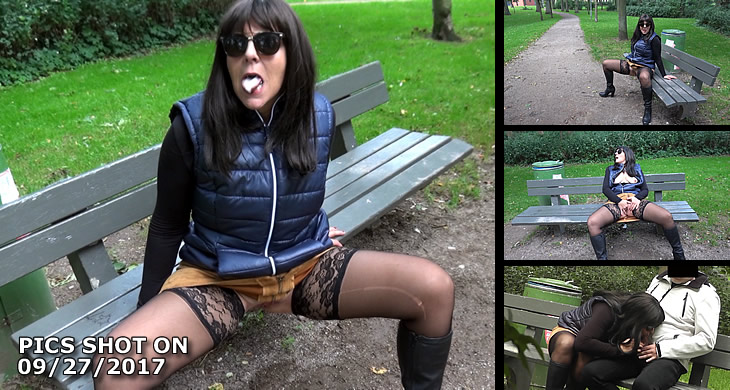 Brand new photos, shot one week ago, on September 27, 2017. Last week I had a few days off and on Wednesday I decided to go out and looking for some fun. I was curious to explore some new dogging spots, places I picked out on different swinger sites, where I probably can find some cock to have fun with. This photo set displays the beginning of this dogging day. It was late in the afternoon and I was on my way to one of these dogging spots as I saw a small city park. A few pathes, a few benches, not a very busy place all in all, but I wanted to take a break and the place was perfect to shoot some nice pics and a quick flashing movie. I sat down at one of the benches and my husband started filming me and taking pics. I love to show off at public places and so I started spreading my legs and even masturbating on the bench. I had to interrupt my filthy work a couple of times, since other people were wandering in the park. But nevertheless I needed more, a hot load in my mouth and so I quickly sucked off the only cock I could grab, which was a very risky job, since everybody could see me doing it on the bench. Finally I had the load in my mouth and then I did a true cum walk, for some minutes I walked through the park with that huge load in my mouth. Nice ;)

Another new gangbang escapade, filmed at one of the local Adult Theaters. This movie starts with me cruising at the theater and showing off at one of the cinema rooms. You can see me attracting attention in front of the big cinema screen. This theater is a huge one, with several rooms, lots of video boothes and even some dark rooms. You can have fun wherever you want. An awesome place for a whore like me, usually there are no other women at places like these. Only guys hanging around there, watching porn movies, sometimes with their hard-ons in their hands. As usual I don't have to wait long until I have a first cock in range, then a second one. I suck and fuck them both in front of the big screen. Afterwards I cruise to one of the dark rooms, you can watch me doing so, since the cam is following me. I placed myself on some kind of a stand, now in perfect position to easily get fucked by every guy who want to fuck me. Quickly I'm surround by a handful of strangers and then I have the first cock in my puss and two other to suck off simultaneously. A second cock replaces the first one quickly, now a true and not staged spontaneous gangbang starts. There's a line of cocks waiting for their turn and as I'm leaving the theater two hours later I got used by 14 guys. I just love Adult Theaters!
Details: Duration 25 min. Format MP4. Quality HD and SD (700 and 200 MB). Download and stream.

This is the second movie that was filmed by my husband in June 2017, displaying the next cocks that using me at the huge car park. After I got fucked and creamed by the first strangers, which you can see in the first movie, I found myself alone at the car. No more cocks in sight. So I went to the nearby bushes, where I expected to find some new guys. This movie starts with this scene. There in the bushes I found myself on my knees and sucking off three different strangers. But I didn't wanted to get fucked in the bushes, so I returned to the car, with two of the three guys following me. Back on the passengers seat I continued sucking them off and now I saw more guys wandering around or getting out of their cars, probably as they realised there is a slut obviously servicing cocks. Quckily the car was surrounded by strangers, some of them with their dicks in their hands. Of course I serviced all guys who wanted to be served. I sucked them off or let them fuck me. And once a guy had used me, he was quickly replaced by a new one. All in all I sucked and fucked 16 different guys that evening. Awesome! Please note: This was filmed after dusk, so the entire movie is a bit dark and grainy. But therefore it's true reality porn once again.
Details: Duration 20 min. Format MP4. Quality HD and SD (640 and 250 MB). Download and stream.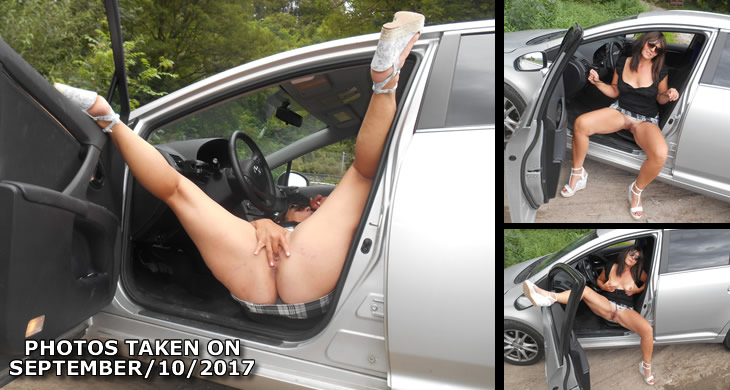 Brand new photos, shot spontaneously on September/10/2017, nearby a busy road. Me and my husband we are on our way home from a shopping trip. Then I had to pee and my husband stopped the car at a small forest path that was leading to a river. I went out of the car and let my bladder loose while Hubby watched. Don't know why but it always makes me hot when I'm peeing outdoors and somebody is watching me. As I returned to the car I placed myself on the drivers seat. Hubby understood the signals, got the camera out and started taking photos. Now here are the results. At the beginning of the shoot I'm only an innocent woman taking a rest, at the end I'm lying on my back, on the drivers seat, with my legs spread wide open and my fingers fucking my cunt. I had such a huge orgasm, it was a true explosion! A few minutes later we were back on the road as though nothing had happened. Funny side note: Three days later after these photos were taken, on September/13/2017, I had a spontaneous bang at a car park, with me on the car seat and nine strangers fucking me in a row. Movie of this bang is coming soon. You see, I'm a busy car slut ;)

You probably can't imagine how much fun it is to bet the center of attraction for a wilde horde of guys. Especially when I am the one and only woman amongst a crowd of cocks (which is the case in over 90% of all of my escapades) I'm just feeling like a true queen of porn. So many cocks and all of them do me the favour to use me. It's like getting an infinite number of compliments. This time I was the only woman again during this hot gangbang night at the club. There was another couple sitting at the bar, but I guess that girl wasn't up for a bang. This night there were about 25 guys hanging around at the club. I wanted to get used by all of them, but this time I wanted to be blindfolded and let them all use me anonymously. I can't see them, I only feel them, their cocks and fingers and tongues and loads. It's just awesome. Now a true hot sex party began. Loud music, dimmed light, party atmosphere. And me as the prototype of a party slut...ready to get used by everybody. I sat or lied at the couch all the time and whenever a guy wanted to fuck me, he just had to do a few steps from his seat to the couch, got his cock out and ramming it into one of my holes. All in all I got used by over 20 guys that night.
Details: Duration 20 min. Format MP4. Quality HD and SD (600 and 250 MB). Download and stream.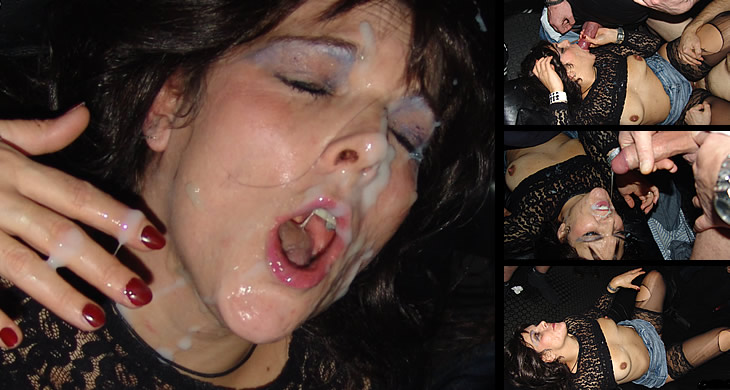 This photo set was shot during a special gangbang night at a sex club, a 'no-rules and no-limits' night where girls like me visit the club to get fucked by everybody. I have to admit, I was a bit drugged as I yelled out at the party room, that I REALLY wanted to get used and abused this night. The guys should give me a true brutal bang, I was ready for anything. And so they did. It was more a rape, than a bang, and I loved it. By the time it was over I had serviced over 20 strangers. Each and every one of them had shot his load onto my face or in my wife open mouth, a few guys had violated my pussy as well. My face and the makeup looked destroyed after all those loads on my face, my clothes, especially the stockings were torn. I was so sore after that brutal gangbang that I was about ready to pass out. It's not what I wanna do day by day, but from time to time I just love to get used and abused like that, it makes me feel like a true sex slave and that enormously satisfies me. The corresponding movie is coming soon.

This is the final episode of the awesome nude beach gangbang, filmed during my penultimate beach vacation. This was for sure one of the hottest days I ever had on a public beach. My husband filmed me as I went swimming in the nude and that was enough to attract some attention. A couple of curious guys were coming to my place on the beach, another few were lying on towels a few steps away, staring at me, hesitating, probably unsure what I wanted to do next. I just told them I want to have some fun, but only if they agree that we will tape the entire action. My husband gave out masks to those who agreed and turned on the cam, which now was recording the entire 3 hours long session. I sucked off two guys first, a third one joined the party quickly and then they were all mounting me, in most cases I got spit roasted by two guys at once. An older guy, over 60 years I guess, completed the party and now four guys took turn on me. In this movie you can see the final scenes we have taped that afternoon. It is a stunning beach sex movie, since while I'm getting banged you can always see the ocean in the background. That's what I call true public sex. There is nothing staged or planned here, it's a true public sex party.
Details: Duration 23 min. Format MP4. Quality HD and SD (670 and 260 MB). Download and stream.

Usually I don't post when I go to a sex club, an adult theater or a similar place. I'm just hot then and drive to that place to have some fun with whomever I can find there. This time I was visiting a swingers club I had not visit for a long time. As I walked along the different rooms of the club I saw there was a new one, a black painted bdsm room, with some bondage furniture in it. And I saw these cuffs hanging down the ceiling and I liked the idea to get used as a cum dump while being bound there. My husband liked the idea too and so I was bound and on my knees, only a few seconds later and of course I had not to wait long, until I sucked off the first guy. Note, that all guys I had sucked off that evening were strangers once again. As usual my husband assures everyone who wanted to use me that he will film it, but won't caught his face on tape. All in all I got 10 cumshots from 10 guys I had never seen before on my face and tongue during the next 20 minutes. It was awesome, I really felt like a true cum dump and you know I love being a cum dump. There were simply no more guys in the room after the 10th had shot his load on my face, otherwise I surely had enjoyed it for a longer time and so my husband released me from the cuffs. He has caught most of the session on videotape, and of course you will also find the corresponding movie in the member area. Now here is the photo set.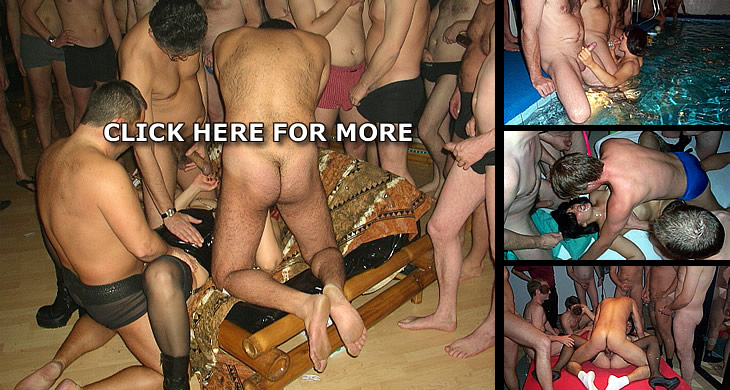 We have launched a huge member area upgrade: The member area is now fully optimized for all mobile devices, as well as for PC and Laptop. When you now enter the member area you can choose between the member area for PC/Laptop or the member area for Mobile Devices. Both member areas contain all videos, photos and stories of course. CLICK HERE if you want to see some screenshots of the new member area optimized for mobile devices. Furthermore we have improved the EARLY YEARS video page. There are now tons of new videos from my very early years on this page. It's now in chronological order. My first porn video ever, my first threesome ever, my first gangbang and so on. I was 18 years as I did my first homemade porn videos and now all those early videos are online!
CLICK HERE if you want to see a detailed listing of all improvements and the corresponding screenshots.
...YOU CAN ALSO CHECK OUT THESE PAGES FOR MORE HOT STUFF...
********************************************************************
Ressources:
Billing Support: CCBill
18 U.S.C. §2257 Records - Customer Support - Webmasters click here to make $$$ - Banners - Links
© Copyright 2001-2017 cumdrinkingwife.com. All Rights Reserved.