My name is Marion, I'm a slutwife with a never ending hunger for cocks. Welcome to my life! I'm no girl of the industry, I'm a real woman, a real wife that loves to have fun with guys. Lots of guys. The more the merrier. Call me a true gangbang cum slut... I'm happy about that.

I started swinging 20 years ago and quickly my husband started to take pics and videos from all my kinky escapades. I had my first gangbang in 1997, my first gangbang with 20+ guys in 2000, my biggest gangbang was a party with over 100 guys. By the time I'm writing these words over 5000 guys have fucked and creamed me... and I'm still counting since I'm still doing dogging and gangbang escapades frequently.

On my website you always get TRUE REALITY PORN. Nothing is staged here. There are no scripts, no actors. My escapades take place at real public locations, such as Adult Theaters, rest areas, public beaches, clubs and pubs and so on. Most of the guys using/fucking/creaming me are real strangers... guys I've never seen before. Now lean back and enjoy my naughty swinging life. [read more]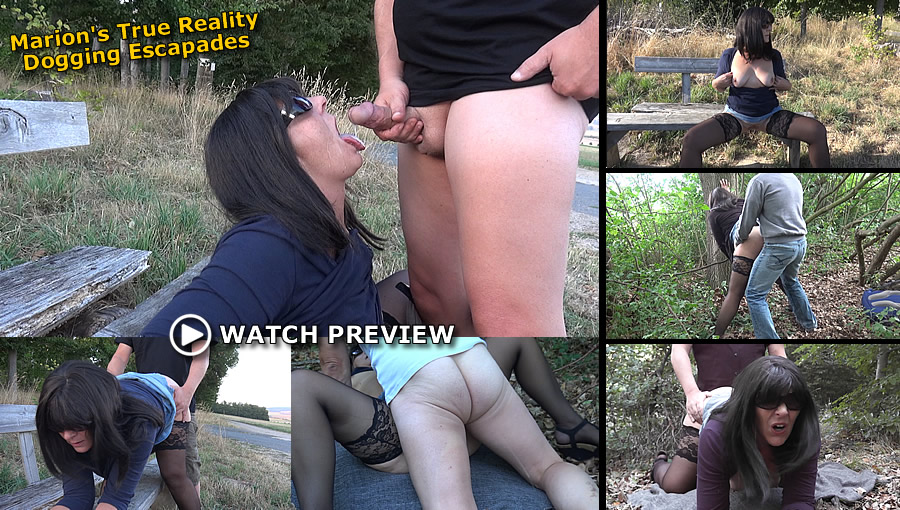 This is the third episode filmed during the longest dogging escapade I ever enjoyed. For over six hours I cruised the local dogging spots, looking for cock and cum and this movie series (with 4 movies all in all) displays this day. Most of the action took place at a huge but not too overcrowded area, with lots of park benches, small pathes leading from here to there and many hidden places to enjoy some cock. A true paradise for doggers! I was so thrilled that I stayed at this area for over 6 hours! There was no plan to stay there for such a long time, but I just couldn't get enough and so I continued to let strangers use me until the sun went down. To cut a long story short: I had fun with plenty of guys during this six-hours period, all of them anonymous strangers of course. I sucked and fucked them at the benches, at the car, in the bushes, on the pathes... just everywhere. They shot their loads in my mouth, on my face and some of them even in my cunt, so you wcan watch plenty of cumshots and creampies in these movies. Of course my husband followed me and caught everything I did that day on cam! This is the third episode filmed that day. Enjoy.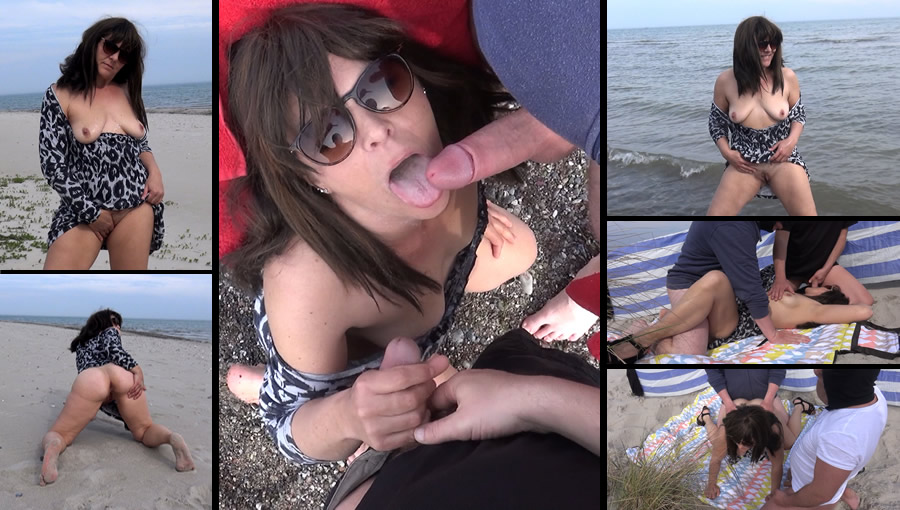 The photos in this set with 100 new pics were shot during one of my most recent beach holidays. As usual I wanted to have as much fun as possible. This time I tried out a new beach where I was never before and that was a good decision, since it was a perfect place for a swinging slut like me. I read about that place in the internet, which seemed to be a good dogging spot for swingers. As I arrived I saw a wide but narrow beach bounded by high dunes. More important, I saw some guys walking up and down the beach and a few lying on their towels at the dunes. Maybe doggers, but all in all the place seemed very lonesome. Which is good. I can't do waht I want to do on beaches that are too busy. In this set you can perfectly see how it works to get me some casual encounters on beaches. In the first half of the set you can watch me showing off by standing and lying in the sand and in the water and presenting my bare tits and shaved cunt. In the second half you'll see that I was successful in attracting attention. I'm sucking and fucking strangers cocks, at the water and later on my towel, with one cock in my puss and one in my mouth. Man, I just love to get spit-roasted in public. That day I had fun with five different guys. Yes, I'm a true public slut.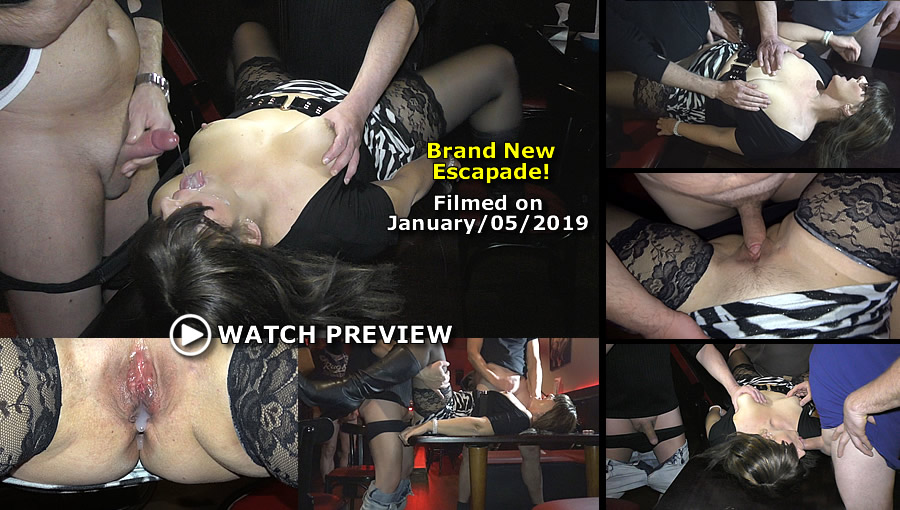 I don't lose any time because I want the new year 2019 to be a very kinky and exciting one. This is a brand new movie, filmed one week ago, so it's the first bang of the new year! During the winter months I prefer to visit the local Adult Theaters or swingers clubs to get me some cock and cum and this time I chose the club option, since I was hot and I know that I am always getting enough cocks to satisfy my needs at the club. It was early evening as I arrived and I saw that it wasn't a very busy place, there were maybe 8 or 10 guys hanging around. The early evening hours are not the rush hours at swingers clubs. But I just wanted some quick gangbang fun with casual encounters and there were enough guys to get me what I wanted. Quickly I placed myself on one of the tables, with my legs wide open and ready to get banged easily with the guys standing in front of the table and fucking me mindlessly. Hubby placed one cam behind the table and held another one in his hands and so we were ready to start. The first two guys accepted the invitation, came to the table, unzipped their pants and used me quickly. Five more guys followed and all seven cocks then started to take turn on me. Some fucked me bare and some not, some shot their loads in my puss and some in my mouth. All in all it was a very satisfying first gangbang of the year and I hope many more will follow in 2019.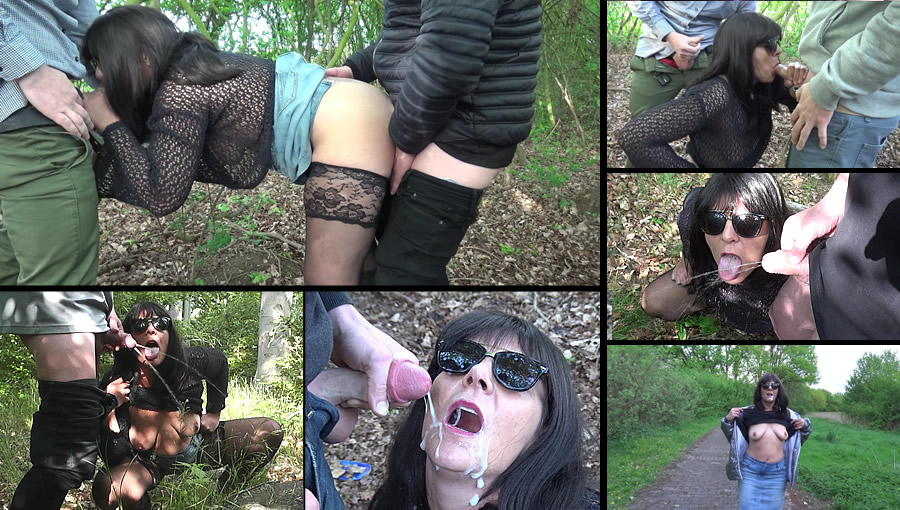 This set of photos displays another hot escapade shot in 2018, where I was used by some strangers in the bushes of a highway rest area. All in all I got fucked by six guys during this escapade, which you can also watch in the corresponding movie in the member area. But while some of them fucked me, some got sucked off and shooting their loads on my face and I even got some golden showers. This was a new dogging spot for me, a place which is right next to the highway. One of my members gave me a note and said he loves my dogging movies. He said he's a passionate dogger too and he knows many great outdoor spots, worth a look for a slut like me. Well, this guy told me about this dogging spot at the highway and a few weeks later I tried out that place. And the guy was right: It is a perfect place, it's even better than the other dogging spot at the highway that I used to visit frequently. There is a long way leading around a small lake. The lake is surrounded by bushes and there several benches. So, I can perfectly attract attention at the benches and once I have found someone to have fun with, I can slip into the bushes and get me some cock and cum. Or, which was the case this time, even some golden showers ;)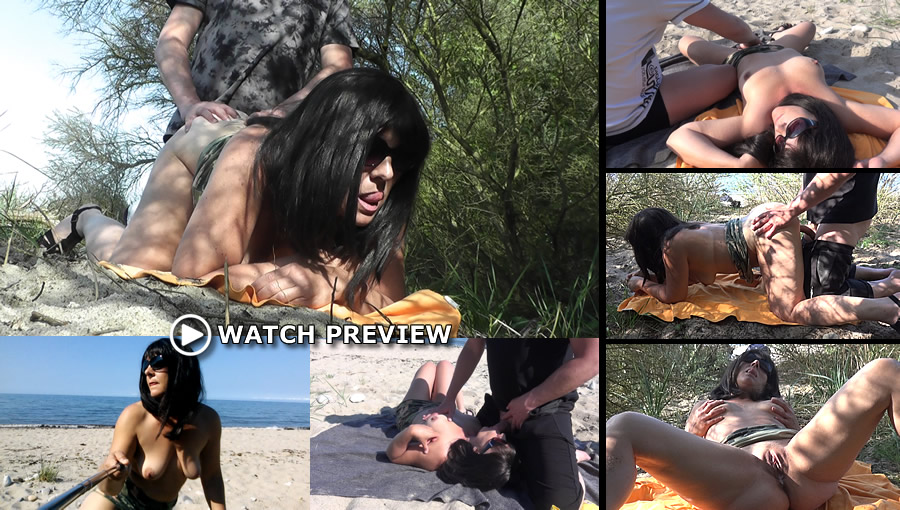 This is the second and final movie filmed on the beach during my most recent holidays at the sea in September 2018. During these holidays I had two gangbangs at the apartment on the first two days and on the third day I just wanted to relax on the beach. My husband decided to stay at the apartment. Eventually I didn't want to get in touch with guys that day, but just as I wanted to leave the apartment I grabbed the camera bag and two short tripods, just in case I'd change my mind and finding someone to have fun with. I went to the nude beach, which is a very lonely place in the off-peak seasons and there I relaxed for the next two hours. And as always I got turned on only by lying there... nude beaches always turn me on. I started to film myself with my cell phone and a selfie stick, later I placed one of the cams behind me, filming myself lying on the beach with the water in the beackground, my legs wide open and stroking myself. I saw some single guys lying on the beach too, not far away from my place. To cut the matter short... in the frist movie you could see me sucking and fucking some of them at the towel and right behind my place in the bushes and now I continue to serve strangers. There are some very nice self-filming scenes in this movie. This is the second and final movie I have filmed that day.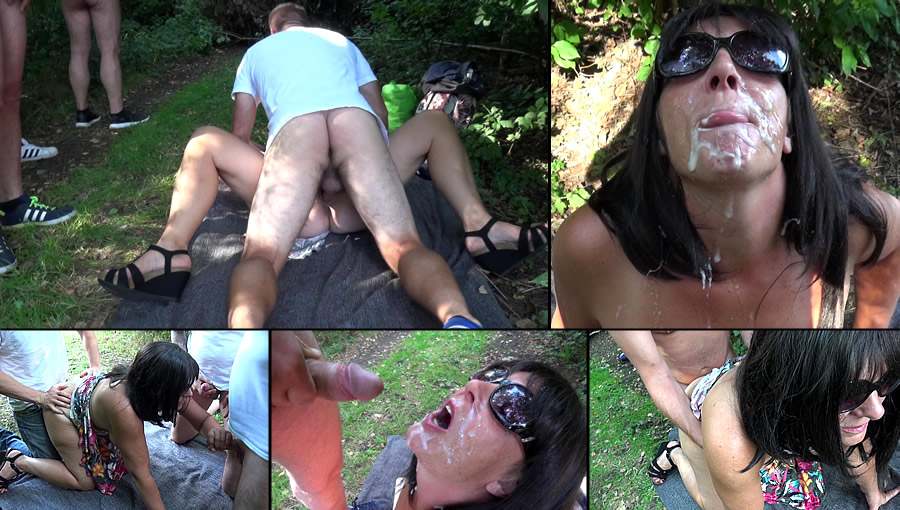 This photo set with over 100 new pics displays a great outdoor gangbang, where I got used by 12 strangers in the bushes of a lake in Summer 2018. Of course there's a corresponding movie of this hot dogging gangbang in the member area too, so don't forget to watch it. In the beginning you can watch my lying on the ground with my legs wide open, so everbody who's passing by can see my shaved pussy and hungry wet hole. Some guys are staring at me and it doesn't take long until the first one accepts the invitation to use me. He goes down and fucks me missionary and quickly I am surrounded by some more guys, who are wanking their cocks and waiting for their turn. The first stranger fucks me until he's shooting his load on my belly and gets replaced by the second one quickly. Later I am on my knees and in doggy position on a rotating basis. More guys arrive and are standing in line to get their free blowjob and a fuck and I'm getting load after load. At the end my face is heavily drenched in cum again. All in all 12 different guys used me and I got tons of cumshots that afternoon. Another great dogging escapade!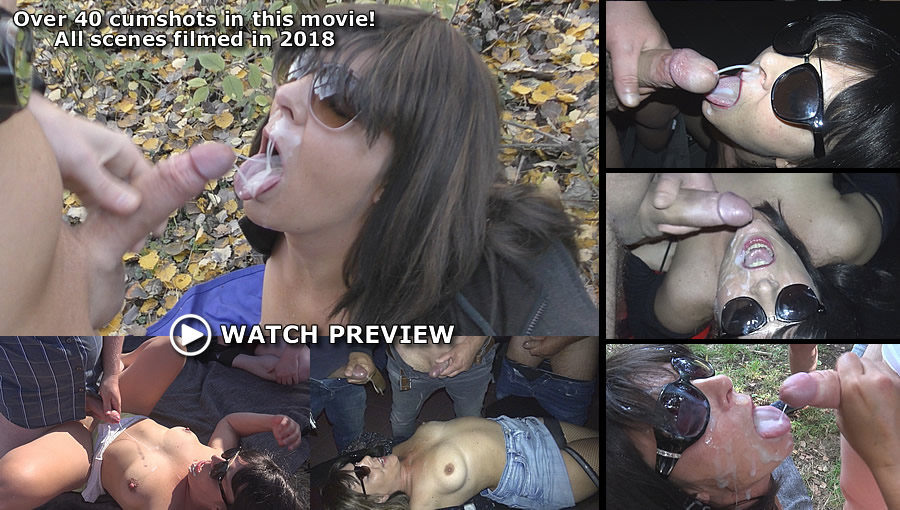 As a good tradition on my website I'm giving you a brand new and hopefully impressive cumshot collection at the end of each year, showing a collection of the hottest cumshots I got in the current year. There are over 40 cumshots in this movie. All scenes were filmed between January and December 2018 and some of them are previously unreleased. Of course these are not all cumshots I got this year, it's just a BEST OF so to speak. As you you will see I was a busy cum slut again this year. I sucked off and got fucked and creamed by over 100 different guys in 2018. So now, watch me being the center of attraction for so many cocks in this movie, watch me getting load after load. I just love being a naughty cumdump for each and every cock and this is just another movie that proves it. Don't forget to prepare for the next year: I have plans for some huge gangbangs and I need much cock to satisfy my needs in 2019, so I hope you'll continue to follow me on my way of swinging and gangbanging. And maybe you are the next in line to fuck and cream me.
And now, the final words for this year: I WISH YOU A HAPPY NEW YEAR 2019!
Details: Duration 20 min. Format MP4. Quality HD and SD (900 and 250 MB). Download and stream.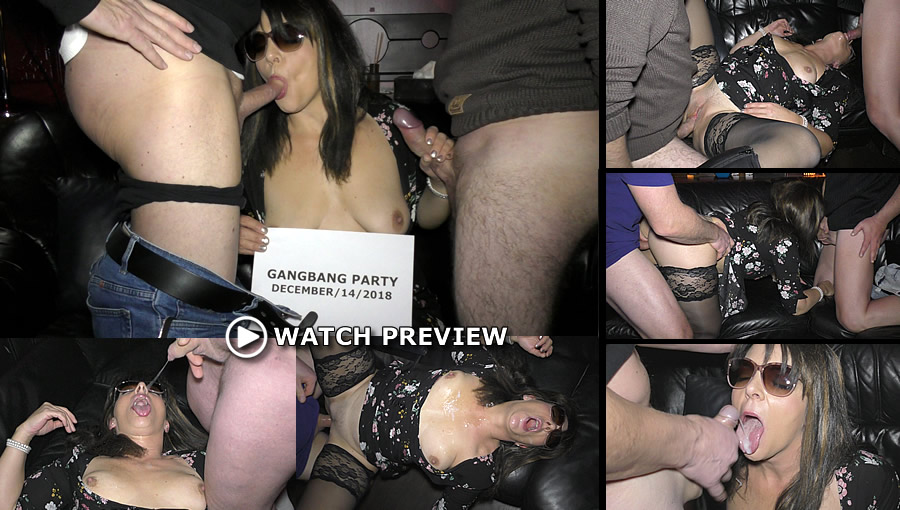 As you can see on the movie pic this is a brand new movie once again. It was filmed on December/14/2018 during my most recent members gangbang party, where I had invited some of my fans and members to bang me into coma and giving me their loads again. As usual I placed another ad in my party scheduler in the member area where I was looking for at least 10 cocks to celebrate this years last members party with me. Finally there were 15 guys joining the party. I knew some of them from former gangbangs, but as usual there were some new faces (and cocks) too, guys who fucked me for the first time that day. I started the party with a special christmas greeting, which I have launched earlier this week. Then the first gangbang started and this movie displays this first bang. All in all I got mounted by 10 guys during the next 30 minutes and I also got many cumshots in my hungry mouth. Later that day a second gangbang started, where all of hem fucked me again... the movie of the second bang is coming soon. I really llove these member parties, it's just amazing to get in touch with people who like my site and love what I'm doing. In 2019 I will do more parties like these, so if YOU want to join these parties and use me too, feel free to look at the party scheduler in the member area, announce to one of the parties and then... just use me ;)
Details: Duration 20 min. Format MP4. Quality HD and SD (1000 and 250 MB). Download and stream.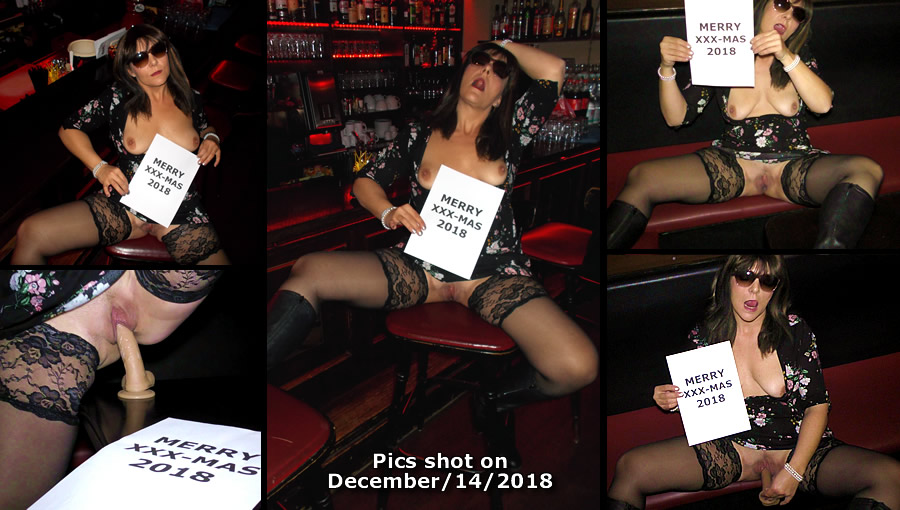 I wish all of you a Merry Christmas 2018! May the Christmas Season bring only happiness and joy to you and the people you love.
These photos and the corresponding Christmas movie were taken on December/14/2018 at the beginning of my most recent members gangbang party. Shortly after taking these pics the party started with a horde of fans and members fucking me. The movie of this gangbang is coming later this week... so please just stay tuned ;)