My name is Marion, I'm a slutwife with a never ending hunger for cocks. Welcome to my life! I'm no girl of the industry, I'm a real woman, a real wife that loves to have fun with guys. Lots of guys. The more the merrier. Call me a true gangbang cum slut... I'm happy about that.

I started swinging 20 years ago and quickly my husband started to take pics and videos from all my kinky escapades. I had my first gangbang in 1997, my first gangbang with 20+ guys in 2000, my biggest gangbang was a party with over 100 guys. By the time I'm writing these words over 5000 guys have fucked and creamed me... and I'm still counting since I'm still doing dogging and gangbang escapades frequently.

On my website you always get TRUE REALITY PORN. Nothing is staged here. There are no scripts, no actors. My escapades take place at real public locations, such as Adult Theaters, rest areas, public beaches, clubs and pubs and so on. Most of the guys using/fucking/creaming me are real strangers... guys I've never seen before. Now lean back and enjoy my naughty swinging life. [read more]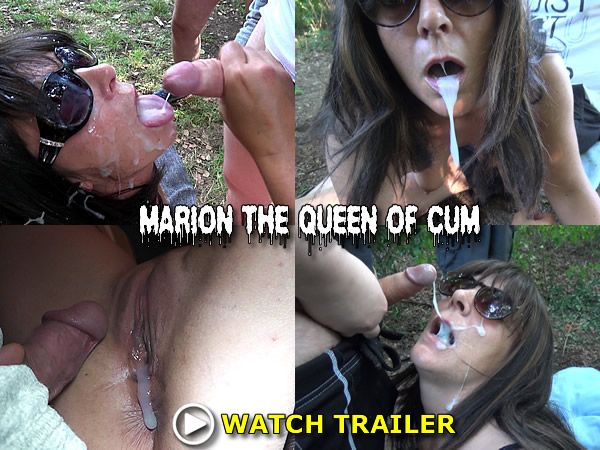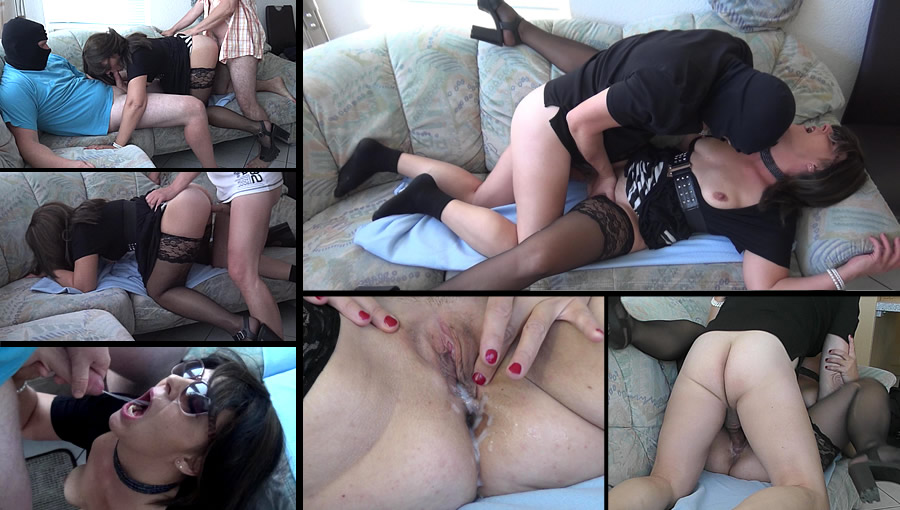 I had two gangbangs on two consecutive days at the apartment and this set with 130 new pics displays the gangbang on day two, where I got fucked again and again by seven guys. This time I wanted to enjoy some cocks at the apartment, so I placed another ad at my party scheduler in the member area, where I was looking for some guys who want to use me at the apartment. The apartment wasn't big enough for a huge party, so I reduced the number of guys who are able to join the bang to a maximum of eight. But at the end there were so many guys who wanted to join the party, that I decided to do two gangbangs on two consecutive days. Finally there were six guys banging me on Day One and seven guys using me on Day Two. During the sex party on the second day all the guys mounted me again and again, with up to three guys using me together. I got load after load in my mouth, in my puss, on my ass. One of the guys even ate one of the creampies from my freshly fucked puss and then continued to lick me until I exploded. If you like what you see in this movie, don't forget to visit the party scheduler in my member area, since I am always looking for guys for sex parties like this.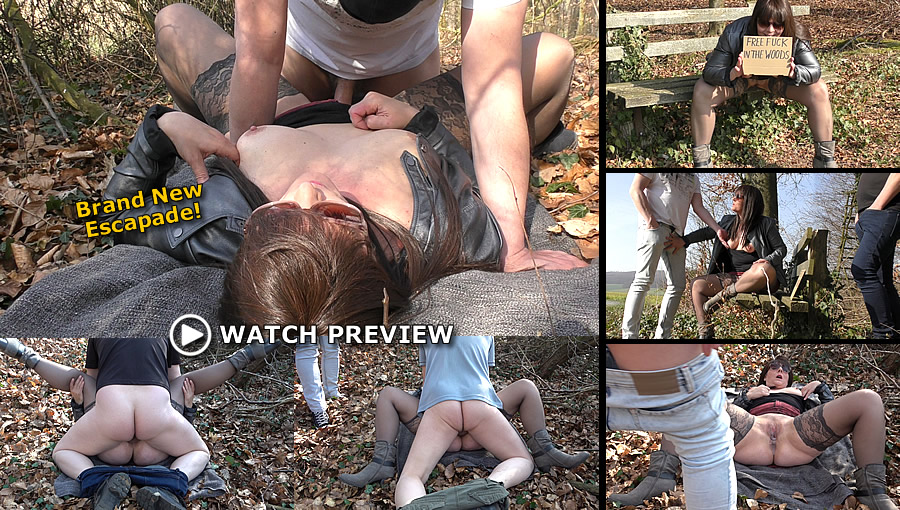 Having fun in (corona) times like these.... this is another brand new dogging escapade, shot a few weeks ago. The weather was fine that day and so I decided to have some fun outdoors again, regardless of the fact that there is the corona pandemy spreading around the world. I decided to drive to a good place in the woods, a place that is not a dogging area, but just a lonesome outdoor area, where I can do whatever I want. At that time we all got locked down and so I didn't expected any doggers. So I sent out a message to some of my regulars... that they can meet and fuck me at this dogging area and once arrived I placed myself at a park bench and waited for the things to come. I had a sign with me with some kinky self-written words on it: Free Fuck In The Woods! Although this one was an arranged meeting I wanted the guys to see this sign and getting hotter. So you can watch me sitting on the bench, with my mini skirt, stockings and bare tits and showing this sign to the world and quickly one of the guys arrives and gropes me at the bench, followed by a second one. After the foreplay, I'm going into the woods, out of sight, and let the first one fuck and breed me on the ground. Then I return to the bench, where the second guy waits. Same procedure. Foreplay at the bench, fucking and breeding a few steps away in the woods. Back at the bench, where the third and final guy awaits me. He fucks and breeds me too, then the first guy replaces him to bang me again and shooting his second load in my puss. Just love to be a cum station for everybody in the woods!
Details: Duration 22 min. Format MP4. Quality HD and SD (1200 and 340 MB). Download and stream.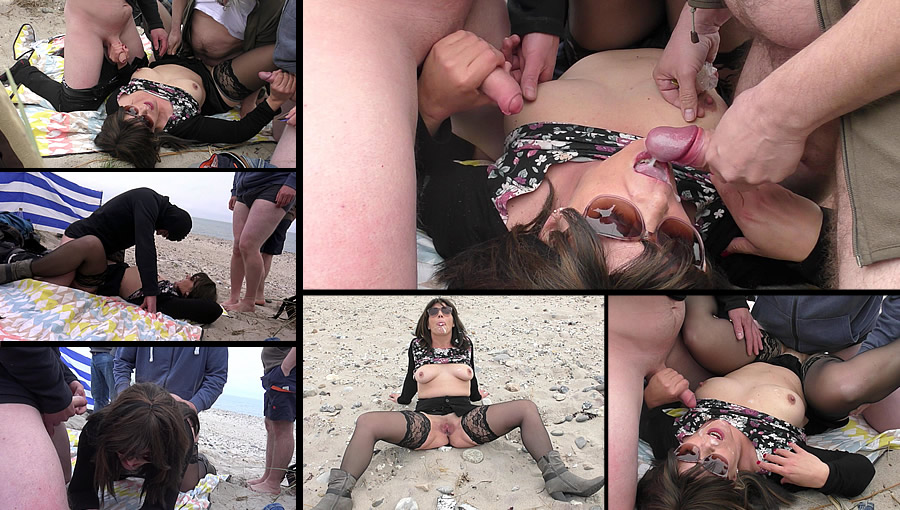 This is another set of photos shot on a public beach a few months ago. Again I had a few days off and decided to spend these days at the sea. As a long time visitor of my site you probably know that I love to get used on beaches. At least one time a year I'm doing such a sex vacation at the sea. The beach I usually visit is far away from the tourist areas, but well known as a dogging spot for swingers and doggers. Usually I'm not wearing many clothes on beaches of course, but this day it was cloudy and pretty cold and so I wore black stockings, a short mini and ankle boots. A perfect outfit to attract some attention: Look at me, I'm a woman who wants to have some kinky fun. And it doesn't take long until I'm successful. A couple of guys are standing at my towel quickly, some other a few steps away, staring at me, still hesitating. I told them that I'm ready to get used by all guys who don't mind being recorded. Some accept the invitation, some not. During the next three hours I'm getting fucked and cum drenched by all of them... again and again.
Please note, by the time I'm writing these words I'm looking forward to my next vacation at the sea, which will be in two weeks. I'm looking for a few guys who want to have a good time with me on the beach. Check out the party scheduler in the member area and give me a note if you want to join the next beach gangbang.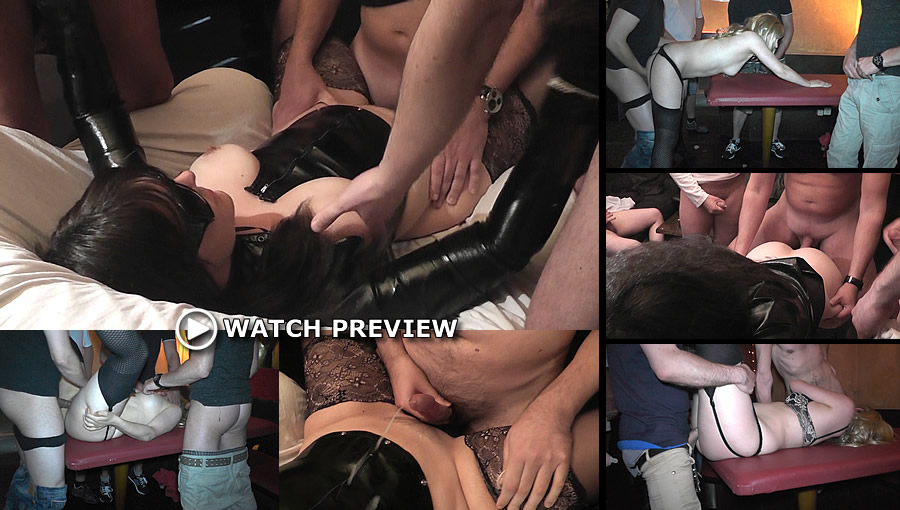 I am hosting gangbang sex parties like this from time to time. Where my fans and members can join the parties to fuck me and use me as a true cum dump. Sometimes there is one of my mates escorting me at these parties, helping me sucking and fucking all these cocks. In this case, the young blonde slutwife joined the party and once she told me she would like to join in I knew I had to invite more cocks as usual. Much more cock, since the blonde hottie needs lots of cocks to satisfy her needs. So, we wanted to enjoy a HUGE gangbang and so we invited lots of guys to the party. True gangbang girls need much cock and cum and when there are two of us we just have to double the amount of cocks. It's that simple! Finally 25 guys arrived to have a good time with us. I saw a few regulars but also many first-time visitors, but be sure that all of them had a lot of fun with both of us. While I got gangbanged at the couches for over two hours, the blonde hottie got nailed again and again while lying on a table or standing in front of it. And my husband switched between us these two places permanently, trying to film both gangbangs at once. Remember, that this is not a staged professional gangbang shoot. It's a true sex party, it's all real. Neither me nor the blonde hottie got paid and all these guys are not actors, but just average guys like you. I really like these parties, it's just amazing to get in touch with people who love my site and like what I'm doing.
Details: Duration 24 min. Format MP4. Quality HD and SD (1300 and 380 MB). Download and stream.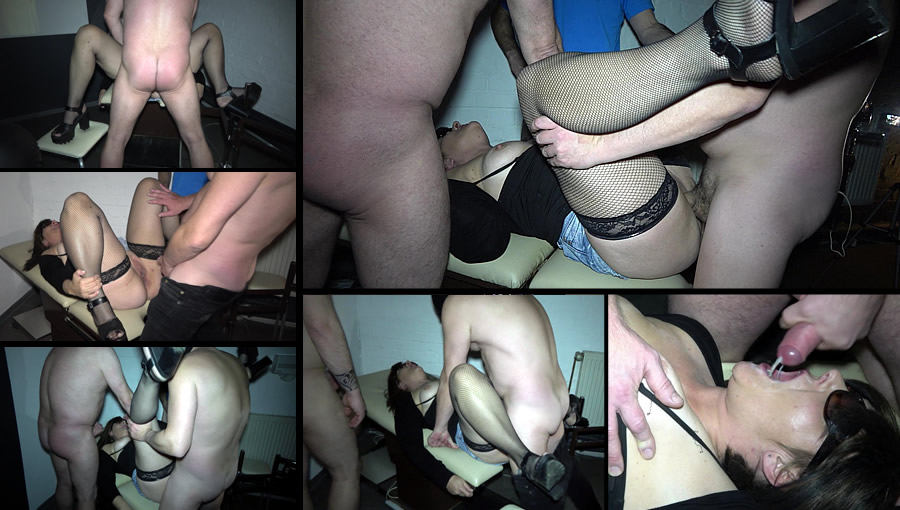 This hot spontaneous gangbang happened a few months ago at a porn theater, where my husband recorded me being the fuck slut for the entire audience. This is true reality porn once again, filmed inside a real theater, with real strangers using me. In fact this is the biggest theater I know, a two-storey temple of lust with tons of rooms and cinemas and video boothes. As a naughty wife you always get what you need there, since there are always guys cruising the dark floors and looking for fun. As usual I walked from room to room in the beginning, and since I was the only woman at the theater, most of the guys noticed me. Some were following me, they still didn't know whether this woman just like to be seen and noticed, or if she's here to get nailed. I stopped cruising at a room with a big cinema screen, a black couch and some sort of gyno chair... which seemed to be perfect for a gangbang, with me on top of it. I took place on the couch and continued to attract attention and from now on it just took a few minutes until I found myself lying on the gyno chair with my legs at ten and two and the first guys dropping their pants and fucking me wordlessly. During the next one and a half hour I was getting fucked by 8 different guys. Some of them were breeding me, some shot their loads in my mouth.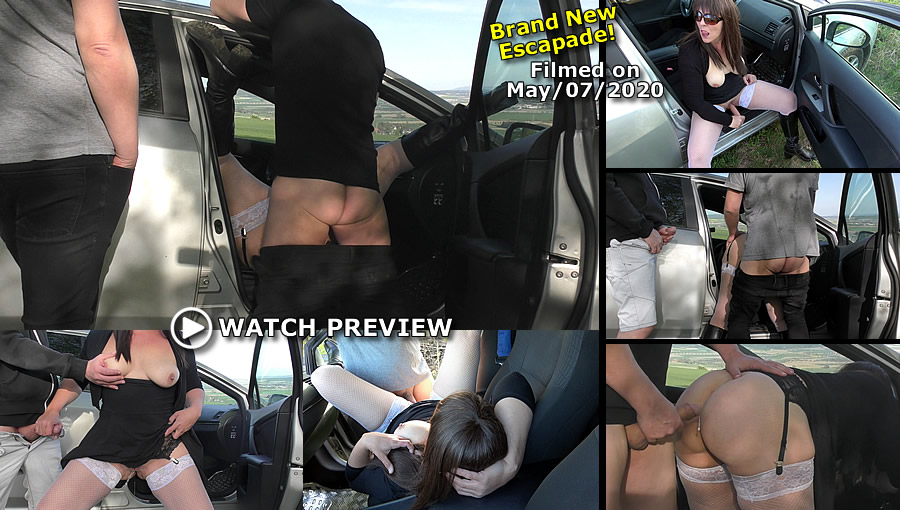 This time I decided to drive to a smaller dogging area at the roadside, because I wanted to have some fun in my car and I know that this place is perfect to get used this way. It is a dead-end road in the middle of nowhere which gets only frequented by people who are looking for casual sex, especially late in the afternoon and early evening. There are always some doggers hanging around there and as I arrived I saw a few cars parking and some guys walking around at some distance. Without hesitation I placed one cam inside the car while hubby placed another one outside and once I opened the passenger door I started showing off at my car to attract some attention. I grabbed one of my dildos and fucked myself at the open door and that seemed to encourage some of the guys to get in touch with me. One word led to another... and a few minutes later the first one nailed me doggy, with my torso in the car and my ass outside. That was the starting signal for a hot spontaneous car gangbang, where I got fucked and bred again and again for the next two hours. There were not many guys around this time, seems that many doggers prefer to stay home at times of corona, but these few guys used me really good. All of them fucked and creampied me two times at least, so it's no lie when I say that I was very busy cum slut once again. Don't miss this brand new escapade, it looks just amazing!
Details: Duration 22 min. Format MP4. Quality HD and SD (1200 and 360 MB). Download and stream.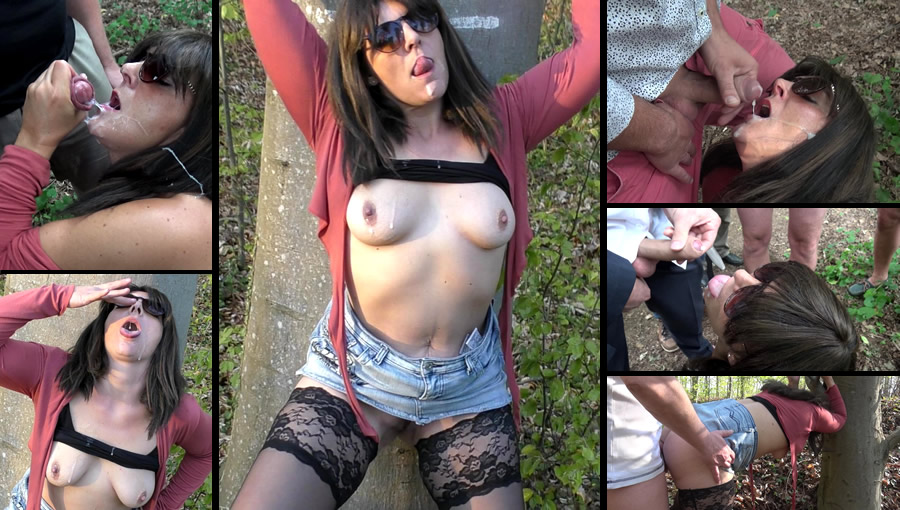 This set of photos contains 100 brand new pics where you can watch me getting used by fifteen random strangers in the bushes of a highway rest stop. I know this place for years now, it's a perfect dogging area where I always find cocks who want to use me. It's one of my favourite dogging spots. There are always many doggers cruising around and most of them are looking for quick and casual fun. And it's so easy to get me some cock and cum there... I only have to put on a slutty dress and attract some attention to show them that there is a naughty woman looking for some fun. Once arrived at the place I'm going down on my knees immediately and waiting for the first cocks that don't mind being recorded. A few minutes later I'm surrounded by the first three or four guys, all of them strangers, guys I have never seen before. I'm getting the first loads on my face and in my mouth, then a few guys start fucking me on the ground and while I'm standing bent-forward at a tree. Guys who have unloaded leave the place and get replaced by new cocks who are standing in line, waiting for their turn. Damn, I really love to get mindlessly used as a cum dump at places like these.

From time to time I'm hosting sex parties especially for my members, where the fans and members of my website can join the party and bang me and cream me again and again. I really love these parties, it's just amazing to get in touch with people who like my site and love what I'm doing. This movie was filmed in October 2019 at such a member party. I placed another ad at my party scheduler in the member area, where I was looking for some guys who want to use me at an apartment. I knew that the apartment was not big enough for a huge party, so I reduced the number of guys who are able to join the party to a maximum of eight. At the end over ten guys wanted to be a part of the show and so I splitted the party and did one session at three o'clock with the first five guys to use me and another gangbang at six o'clock with the next few guys. Now I could invite all the guys and had two gangbangs in one day... which was just amazing. This movie displays the second gangbang of the day, with five guys fucking me. As you will see, we are having a really good time. All the guys are banging me again and again. Funny sidenote: One of the guys, who is a regular at my parties, got a corncob out of his bag and said he wanted to fuck me with that veggie. The movie starts with this scene, you can see him fucking me with the corncob ;-)
Details: Duration 25 min. Format MP4. Quality HD and SD (1200 and 400 MB). Download and stream.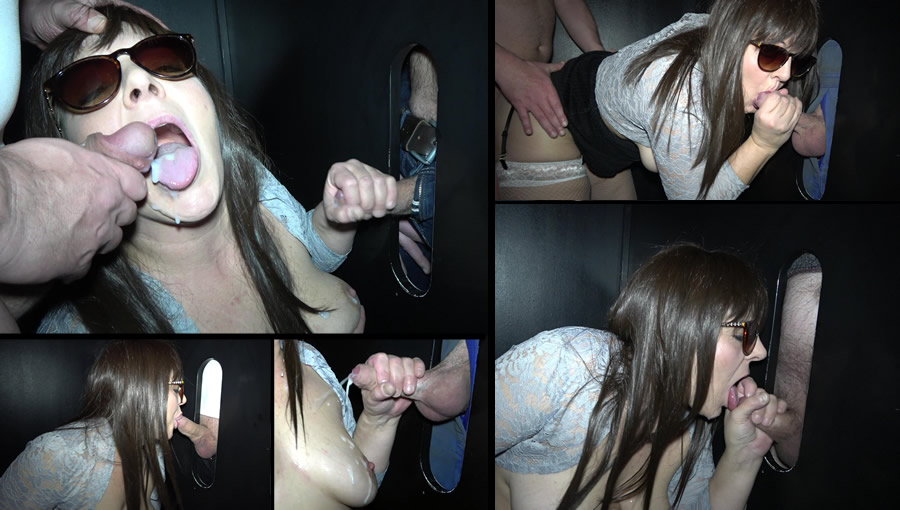 Three weeks before the local porn theaters closed their doors due to corona crisis I visited this smaller theater at the highway truck stop. I had never been there before, but I had read a lot about this theater, especially that this is a place where many truckers and business travellers who are on their way home or to work take a short break to get them a willing mouth, puss or ass. Well, a theater at the highway, full of needy cocks who just want to unload quickly? Sounds like a perfect place for me and so I decided to give it a chance. This time I intended to have some fun at the gloryhole and as I arrived I noticed a videobooth with a big hole to the neighbour booth in the wall and occupied this booth immediately. Then I waited for the things to cum. There are not many thrills in life like being behind a hole in the wall and waiting to see what kind of cock you will be getting next. A fat one? A small one? A white cock? A latin cock? A hot slut like me just has to take what ever cums her way! This afternoon I served over ten guys. I didn't close the door of the booth, in case somebody wanted to use me inside. I sucked off nine various cocks at the hole, with one of them also fucking me. Two more guys fucked me in the booth, one of them shot his load in my puss and one in my mouth. The movie of this escapade is already online... now here is another set of photos with nearly 100 brand new pics.
| | |
| --- | --- |
| | |
| | |
| --- | --- |
| | |
********************************************************************
Billing Support: CCBill
18 U.S.C. §2257 Records - Customer Support - Webmasters click here to make $$$ - Banners - Links
© Copyright 2001-2020 cumdrinkingwife.com. All Rights Reserved.