My Name is Marion, I'm a slutwife with a never ending hunger for cocks. Welcome to my life!

I'm no girl of the industry, I'm a REAL wife and I have sex with REAL men, not actors. So this is a REAL site about my life. And my life is about having sex with as many guys as possible. I'm cruising the nation to suck off and fuck every guy I meet. I love to eat cum. I love gangbangs, I love bukkake, the more cocks and cum the merrier.

There are no staged settings, NO FAKED PLACES, only real guys fucking me at real public locations, such as adult theaters, pubs, bars, clubs, carparks, woods etc. My husband always escorts me, he loves to film all the dirty things I'm doing with the many 100s of cocks. [read more]

Man, I really love to be a car sex cum slut! You know I like to have some kinky dogging fun and one of my dogging faves is to get laid down in my car. On the backseat, in the trunk or on the drivers seat, while the door is open and guys can grope me, fuck me and cream me. This movie was filmed during the last outdoor season, it's the second movie that was filmed that day, containing the second half of this dogging escapade. In the first movie you could see me getting fucked and creampied by two guys. Now, after a short break, the action continues. I'm still sitting on the driver's seat, the car door is still open to let some hands and cocks and tongues inside my car. I suck cock and get multiply fucked missionary and doggy. I have placed two cams in my car, filming the entire escapde from two angles. One of the guys shoot his load in my puss, another one unloads in my mouth. At the end I'm playing with the cumshot, now totally satisfied. For a true cum slut like me that's where your loads belong to be - in my mouth or in my puss. Nowhere else!
Details: Duration 20 min. Format MP4. Quality HD and SD (670 and 220 MB). Download and stream.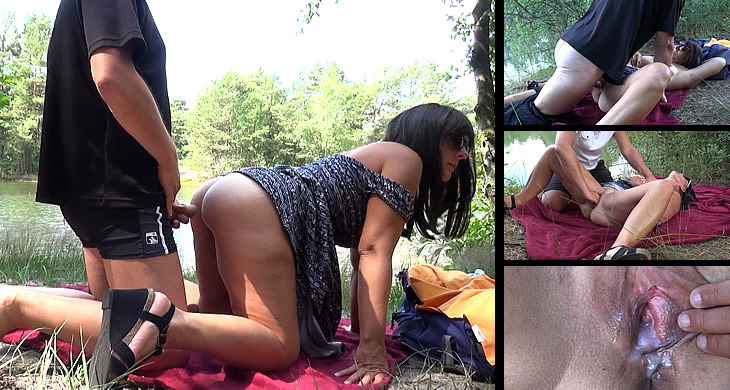 This photo set with 100 new pics was shot during my 2016 holidays. Usually I'm spending my free days at the sea, but this time we drove to the mountains and of course I was curious to explore some new dogging spots. We picked out these places on different swinger sites, where other people already had their fun. One of these place was a mountain lake or rather a gigantic lake district, with dozens of smaller lakes, all surrounded by thick wood and each lake seemed to be perfect for us. Not many people there, small pathes leading from lake to lake, a perfect dogging spot. We strayed for a while, the area was really huge and we wanted to find the best place for us, but then I just let down at the next lake and started having fun. It was a wonderful day and I had so much fun. In this set of photos you can see me showing off at the lake, sucking cock and getting multiply barebacked and creampied. There's also a corresponding movie of this day in the member area. Enjoy.

Brand new movie, filmed one week ago, on February/10/2017, at one of the local Adult Theaters. A few days ago I gave you the photos that were shot at one of the cinema rooms and where I attracted attention. Shortly after taking these pics at the cinema room I went to the video boothes. There are three boothes next to each other, all three have gloryholes for uncomplicated fun with casual encounters. I went into the middle booth, so now I had two gloryholes, one at the left and one at the right wall. I locked the booth door and then I started serving all guys who wanted to be served. I placed a cam which filmed the entire session. What now followed was a totally unexpected GLORYHOLE MARATHON, where I sucked and fucked and jerked off tons of cocks at the hole and even inside my booth. The booth was very small and my husband decided to leave me alone, to feel more comfortable. He even left the theater and waited outside in our car, all the two hours until I had finished servicing cocks. It was awesome! If I don't lose count, I got used by 17 strangers that night. Most of them fucked me at the gloryhole, but I also let some guys join me in my booth and use me there. One of them (sadly I don't know his name) even was so kind to hold the cam while I continued sucking off strangers, so there also some point of view scenes in the movie. If you like gloryhole movies, you'll love this one. And it's true reality porn shot at a real Adult Theater.
Details: Duration 20 min. Format MP4. Quality HD and SD (660 and 240 MB). Download and stream.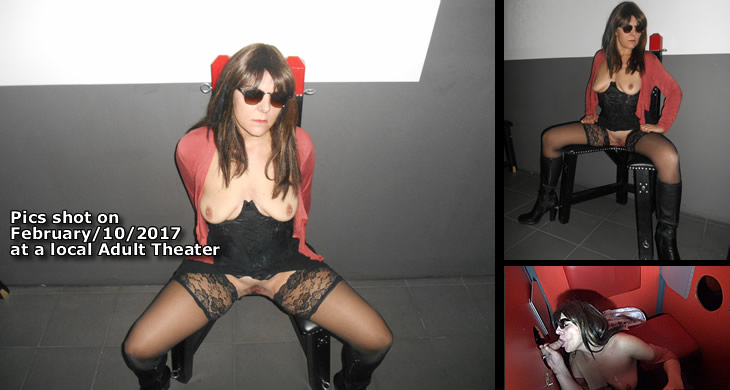 Brand new photos, taken only 4 days ago, on February/10/2017. I visited the X-Posed Theater once again, which is a great place at the highway, only one hour away from my hometown. As usual when I'm visiting the local Theaters this was not a hosted party, I just drove to the Theater because I was hot and wanted to get me some cock and cum. I paid my entrance fee, entered the doors, ready to take things as they come. The last few times I was there I got fucked by strangers at the open cinema rooms, but this theater has a few nice gloryhole video boothes too and this time I intended to have some fun at the gloryhole and sucking and fucking strangers anonymously at the hole. As I walked through the dark floors I quickly attracted attention - of course I was the only woman at the theater - and as I sat down at one of the cinema rooms and my husband started taking some pics of me, the room quickly filled up with over 10 guys watching me showing off. This photo set contains the pics my husband has shot at this room. Shortly after I went to the boothes, locked the booth door and started serving guys at the hole. What now followed was an improving and totally unexpected new GLORYHOLE MARATHON, with tons of cocks being serviced by me. Prepare yourself for the movie which will display that new marathon; it's coming later this week.

This is the full 42 min version of an absolutely awesome gangbang night at my favourite club. As usual I was the one and only woman among a huge crowd of cocks. This time 40 (!!) guys joined the party. As I arrived at the club I saw that huge number of men and I knew this party would last much longer than the other ones. 40 guys, god damn. But there's a reason why they call me the gangbang queen, I'll take them all with pride and lust. The more the merrier. Once I sat down one of the guys blindfolded me, which was a good idea, since I like to get used anonymously. The first guys now surrounded me and I started sucking and fucking them. I was surrounded by 4, 5, 6 cocks at any time during the four hours and once one of them had used me another one replaced him. A true never ending line of cocks, fucking me, groping me, shooting their loads on me. I was in heaven. Four hours later the bastards released me and my husband had counted 40 cocks. Now here is the full 42 min movie, all my husband has filmed that night. He missed a few cocks, but nevertheless you'll see it was an awesome gangbang.
Details: Duration 42 min. Format MP4. Download and stream.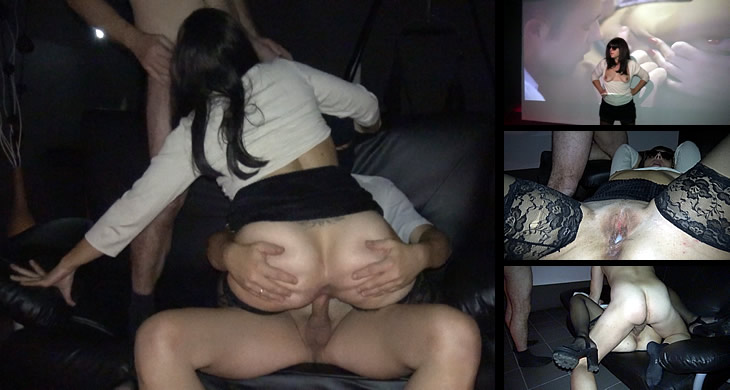 These pics were shot at the end of 2016 at one of the local Adult Theaters. It was a spontaneous decision to drive to the theater. I had not much time that day but I wanted to enjoy some cocks and the best place to get me cock and cum promptly are Adult Theaters. I arrived in the early evening and wasted no time. There was a group of guys staring at me as I walked into one of the big cinema rooms. My husband started filming me in front of the big screen and soon I chatted with them and then a guy came up who was from the group and escorted me to a leather couch, where I began to give him head immediately. The men moved in then one by one, now there was a group of four guys in the room. I locked the room (this is one of the few theaters I know where you can lock up the cinema rooms). Each guy was given a deep blow job and I offered them the option to fuck me and that's what they all did. I got fucked by all of them, got two creampies and two facials. But the climax definitely was the awesome double penetration, as two of the guys fucked me in ass and puss simultaneously. Once again I was a good Adult Theater slut.

This movie contains different dogging scenes of the outdoor season 2016. All of these scenes are previously unreleased of course. Sometimes my husband films scenes that are too short for an entire movie, sometimes he films with two cams and so we have the same scenes from different angles. So at the end of an outdoor season we often have a lot of scenes we have not shown before. Too short for an own movie, but way too hot to waste. This movie is full of scenes like this! All scenes in this movie were filmed between late 2015 and late 2016 and show me getting fucked and creamed by plenty of casual encounters, taped on different dogging spots. Watch me getting used at the car trunk, filled up with cum in the bushes of a highway rest area, creampied on the passenger seat, sucking cock and eating cum in the park. I just love to visit the local dogging spots frequently and my member area is packed full of dogging and outdoor stuff like this. Remember, all of this stuff is NOT STAGED! It's true reality porn. Lean back and enjoy.
Details: Duration 20 min. Format MP4. Quality HD and SD (640 and 250 MB). Download and stream.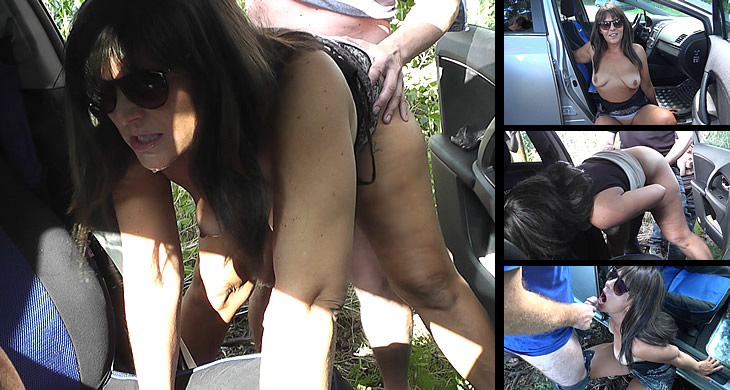 Photo set containing 100 pics from my most recent rest area gangbang, where 10 strangers fuck me in the car. I just love to serve guys who want to be served at dogging spots like these. This time I sat on the passenger seat all the time and sucked off every cock that appeared at the door. Once one of them wanted to fuck me I just got out of the car and let them do me doggy while standing. It was the first time I tried out this rest area and it's really a perfect place for car sex dogging, since the entire place is surrounded by bushes and thick wood. I read about this pace in the internet and that there are always some truckers, car drivers and other who are looking for casual sex. My husband tried the best to caught it all on tape, but you know, some guys don't like to get filmed (altough hubby never films faces). All in all I got fucked and cum drenched by 10 strangers that afternoon. Have fun with these brand new pics.

As promised here is a movie from my awesome birthday gangbang party, which was just one week ago, on January/20/2017. It was a great party with a huge amount of cocks celebrating my birthday with me. 25 guys joined the party and believe me, all of these cocks fucked me into coma and creamed me again and again. The party was splitted into 3 rounds. The first round (which you can see in this movie) started with someone writing 'Happy Birthday' on my tits, after that I got fucked and cum drenched by the first 10 cocks. During the second round the next dozen cocks used me and gave me many cumshots to eat, while at the final round the entire group of 25 men fucked me again, bringing the party to an end with a huge bang! Movies from the second and third round of the birthday party are coming soon. As usual the party was at my favourite club, outside its business hours, so there were only the invitees and me in the club, no other audience.
Details: Duration 22 min. Format MP4. Quality HD and SD (700 and 270 MB). Download and stream.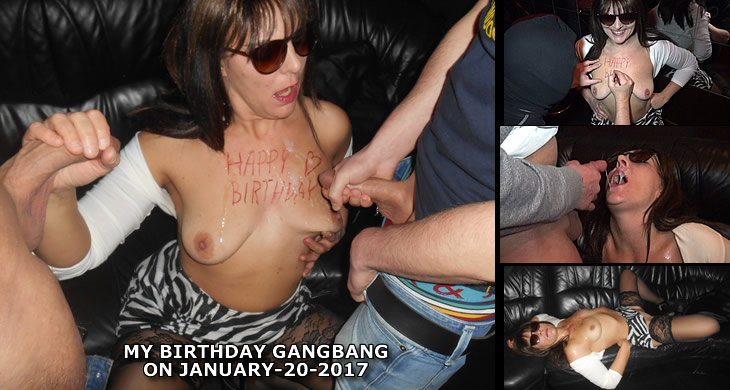 I haven't done that in a while, but this year I wanted to celebrate my birthday with a gangbang! And what a huge bang that was! Last Friday, on January/20/2017, I have celebrated my birthday with 25 men! I hosted the party at my favourite club and posted the informations at my party scheduler. As usual the party was outside business hours, so there were only the invitees and me in the club, no other audience. I had never expected that so many men wanted to celebrate my birthday with me, I was so happy. In this photo set with nearly 100 pics you can see the beginning of the party. Someone is writing 'Happy Birthday' on my tits, right after that I start sucking off the first cocks and get the first few loads. Some guys impregnate my inscribed tits and some cum in my mouth. And this was only the beginning of a huge orgy. During the next hours and during 3 seperate rounds all the 25 guys took turn on me, banged me into coma and gave me plenty of cumshots to eat. Now here is the first photo set of the birthday party, the first movie is coming later this week. Enjoy.

This movie was filmed by my husband in November 2016, during one of my most recent sex parties. I hosted another huge gangbang at the club for me and only for me. One woman, plenty of guys. Now here comes the second and final movie he has filmed that evening, showing the second half of the party. That's how I want it, that's what I call a true gangbang. I shared all informations about this party in my member area, so everybody could join the orgy to fuck me and cum on me. As usual I went dressed for the occasion and fully equipped – the dressing beforehand is a big turn on and gets me ready for fun! As I arrvied at the club I already saw some guys waiting for me and during the next twenty minutes the crowd grew up to over 20 guys, some of them first-timers who never met me or any other gangbang party. I went down on my knees and started sucking off cocks. What I really like about this venue is that if you want you can have sex anywhere that suits you, unlike some other clubs, there are no 'house rules' to say this or that area is off limits for sex. In this movie you can see me on all fourth again and plenty of guys fucking me doggy. Later I switch to another room of the club, now sitting on a chair and letting all those guys groping me, fucking my mouth and creaming me. That was another great party!
Details: Duration 20 min. Format MP4. Quality HD and SD (570 and 240 MB). Download and stream.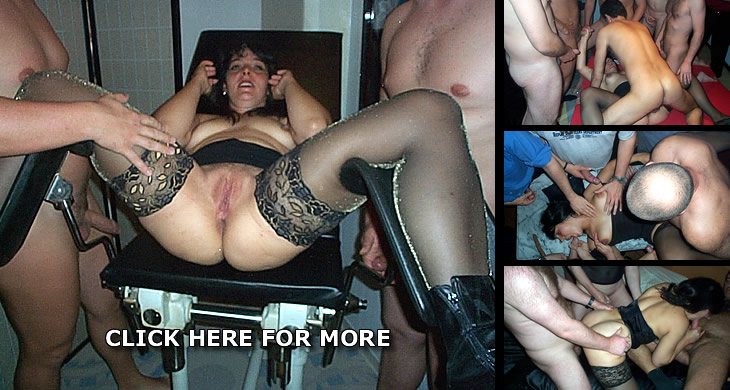 Today we have launched a huge member area upgrade: The member area is now fully optimized for all mobile devices, as well as for PC and Laptop. When you now enter the member area you can choose between the member area for PC/Laptop or the member area for Mobile Devices. Both member areas contain all videos, photos and stories of course. CLICK HERE if you want to see some screenshots of the new member area optimized for mobile devices. Furthermore we have improved the EARLY YEARS video page. There are now tons of new videos from my very early years on this page. It's now in chronological order. My first porn video ever, my first threesome ever, my first gangbang and so on. I was 18 years as I did my first homemade porn videos and now all those early videos are online!
CLICK HERE if you want to see a detailed listing of all improvements and the corresponding screenshots.
...YOU CAN ALSO CHECK OUT THESE PAGES FOR MORE HOT STUFF...
********************************************************************
Ressources:
Billing Support: CCBill
18 U.S.C. §2257 Records - Customer Support - Webmasters click here to make $$$ - Banners - Links
© Copyright 2001-2017 cumdrinkingwife.com. All Rights Reserved.