My name is Marion, I'm a slutwife with a never ending hunger for cocks. Welcome to my life! I'm no girl of the industry, I'm a real woman, a real wife that loves to have fun with guys. Lots of guys. The more the merrier. Call me a true gangbang cum slut... I'm happy about that.

I started swinging 20 years ago and quickly my husband started to take pics and videos from all my kinky escapades. I had my first gangbang in 1997, my first gangbang with 20+ guys in 2000, my biggest gangbang was a party with over 100 guys. By the time I'm writing these words over 5000 guys have fucked and creamed me... and I'm still counting since I'm still doing dogging and gangbang escapades frequently.

On my website you always get TRUE REALITY PORN. Nothing is staged here. There are no scripts, no actors. My escapades take place at real public locations, such as Adult Theaters, rest areas, public beaches, clubs and pubs and so on. Most of the guys using/fucking/creaming me are real strangers... guys I've never seen before. Now lean back and enjoy my naughty swinging life. [read more]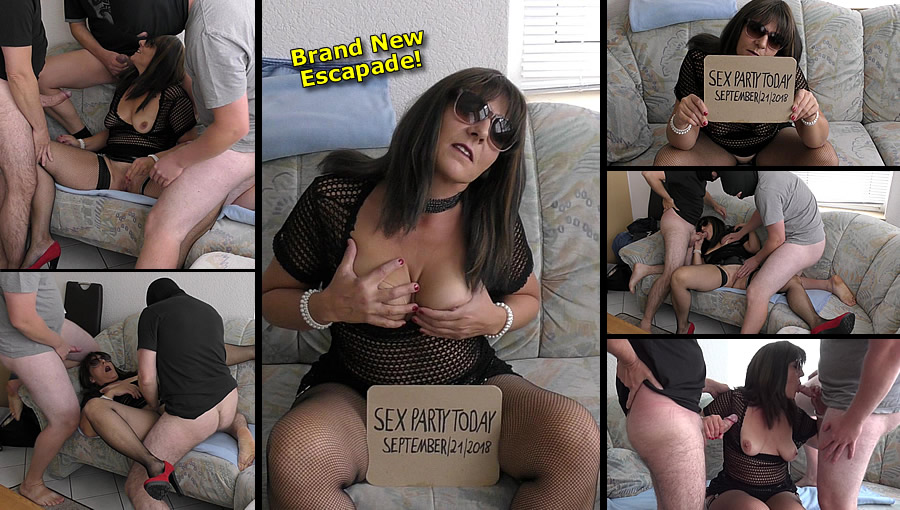 This is brand new content, taped on September/21/2018. I had a few days off and booked a holiday apartment at the sea. But this time I didn't want a beach gangbang with casual encounters, this time I wanted to enjoy a sex party at the apartment. So I placed another ad at my party scheduler in the member area, where I was looking for some members who want to give their cocks and cum. I knew that this apartment is not big enough for a huge party, so I reduced the number of guys who are able to join the party to a maximum of 8. The day after placing that ad fifteen members had given me a note that they would like to join the party. 15 guys, but space for only 8 of them. So - what should I do? Then I had the idea to invite them all, but for two parties, one party on September/21 and one on September/22. And that's exactly what I did. Two gangbangs on two days and all the guys now got an invitation. Finally there were 6 guys banging me on Day One and seven guys banging me on Day Two. Now here is a first set of photos with 80 pics, displaying the start of the Day One party. There are hundreds of photos more on its way to come and of course we have filmed tons of movie footage too. We will release a first movie of this party very soon.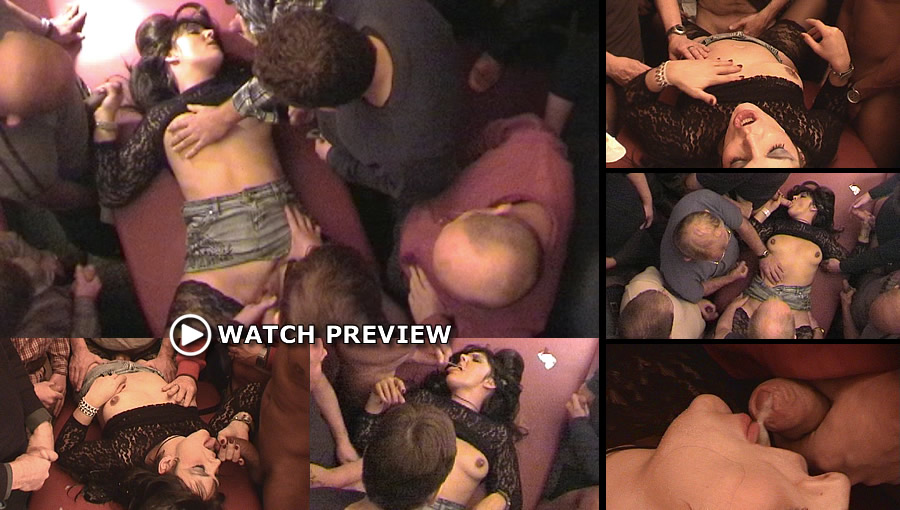 As promised here is the second and final movie filmed at the club, where I got used by 70 men. Yes, that's right. 70 men! This movie displays the second half of the party and it seems the line of cocks who are taking turn on me never ends. This was filmed at one of the clubs special gangbang nights, so I knew this night there are many cocks waiting for a slut like me, but to be honest, I expected 20 cocks or maybe a few more. But as I sat there at the bar and saw a nearly endless crowd of guys entering the club until it was full to bursting, I became a bit anxious. But then I took it with pride and promised myself not to leave the club until I the last cock had used me. And so I found myself quickly on a table and during the next hours the table was always surrounded by 6 or more guys and once one of them had fucked me he was quickly replaced by the next one. 70 men who lined up to bang me. Simply awesome! Yes, I'm totally aware of the fact that I am just a piece of meat for all those guys, but that's exactly what I want to be right here and now and so I can truly say: I love it! Now watch this second and final movie my husband has filmed that night. Including the first part, this one now has a total duration of 65 minutes.
Details: Duration 32 min. Format MP4. Download and stream.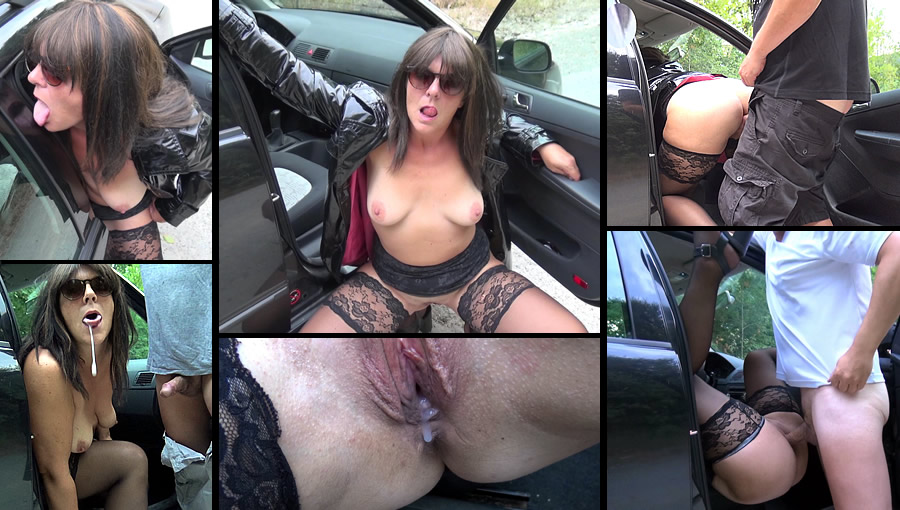 This is a set of photos with nearly 100 brand new pics, shot in July 2018 at a local rest area, which is known as a good dogging spot for casual sex. Don't forget to wtach the corresponding movie, which we have uploaded a few weeks ago. This rest area is a perfect dogging area if you are a woman who wants to get laid down by lots of strangers, since it is always a very busy place, especially in the evening hours. I arrived at 7 pm in broad daylight and started to attract attention by standing at the car, showing my tits and even lick off the doorframe of the car. I saw two guys walking to my car and recognized them... these guys had fucked before at this place. Well, that makes things much easier. Now I didn't need to talk to them, these guys knew that I'm just here to have fun. A few minutes later I was sitting on the passenger seat, giving the first one a blowjob and then I let him bang me. He shot his load in my puss and the second guy replaced him immediately. Attracted by this hot action, the car now was surrounded by some more guys. Now a fine breeding gangbang began, with me on the passenger seat most of the time, getting fucked doggy and missionary and many cocks standing in line and waiting for their turn. All in all I got used by ten different guys. In this photo set you can see me getting 4 creampies and 1 facial.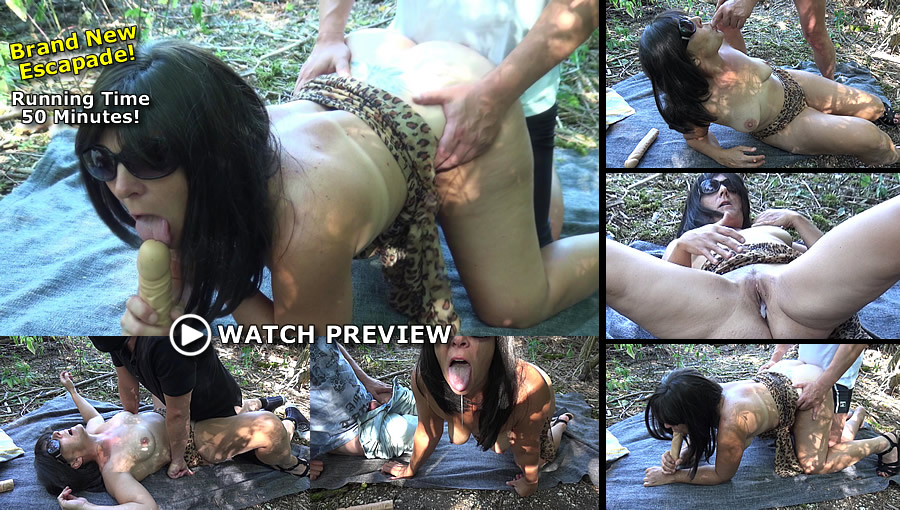 Well, if you are doing the things that I do there is always the risk that everything becomes routine, especially if you are visit the same places, for example the same dogging spot or the same porn theater, again and again. Doing the same things again and again is generally boring and so I'm always thinking about doing new things and making new experiences. That keeps my swinging life fresh and exciting. In this case I placed an ad in my party scheduler, where I was looking for cocks to bang and breed me at a lake. But in a break from tradition I didn't want to get used by a group of cocks at once, this time I wanted to get fucked guy by guy. A true 1 on 1 gangbang, so to speak, with each guy using me for 30 minutes and then being replaced by the next one. As the cream on the cake my husband didn't escort me this time, I am all alone with my lovers all the time. Well, it was a total success. 7 members announced to that escapade. The first one fucked me on 1.30 pm and the last one on 6 pm. All seven guys creampied me and one of them even came twice and shot another load in my mouth. I placed two cams beside the towel, filming the entire session. Now here is the full 50 minutes movie of this escapade, with all 7 guys using me, all important scenes, all cumshots, from the very beginning to the end. I have never done anything like that before and I hope you'll like it.
Details: Duration 50 min. Format MP4. Quality HD and SD (1400 and 370 MB). Download and stream.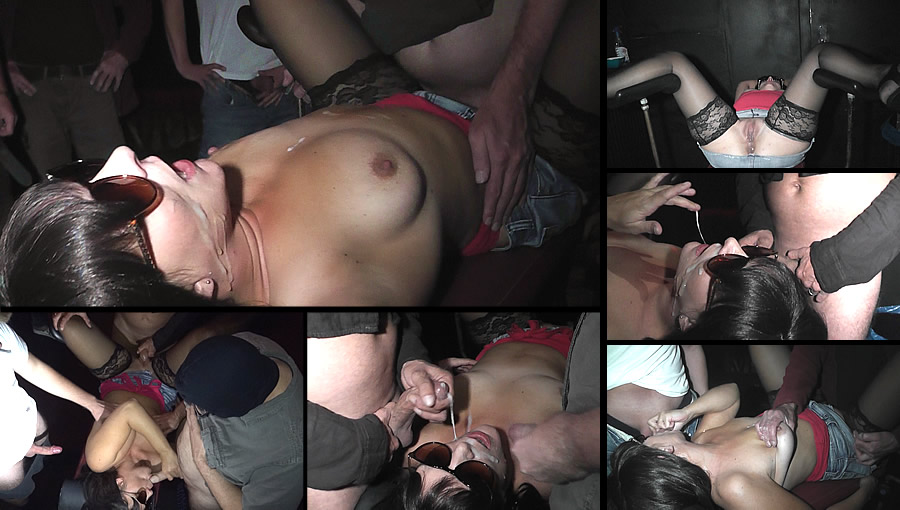 This set of photos contains 100 new pics, showing me getting a quick gangbang at a local porn theater. This is a huge place, with several big screen rooms, lots of video boothes and some dark rooms. You can have fun wherever you want. An awesome place for a whore like me, since there are no other women at places like these usually. Only guys hanging around there, watching porn movies, sometimes with their hard-ons in their hands. I'm losing no time, I'm sitting down at one of the big screen rooms, attracting attention with my black stockings and mini skirt and the guys at this place get attracted like bees to the honeypot. Then I'm cruising to one of the dark rooms where I place myself on some kind of a stand, now in perfect position to easily get fucked by every guy who wants to fuck me. Of course I don't have to wait long, before I have the first cock in my puss and a second one in my mouth simultaneously. A second guy replaces the first one quickly and now there's a line of cocks waiting for their turn to fuck me. During the next 60 minutes 12 different guys are using me, most of them bang me, but some just jerk their loads in my mouth. Them I'm leaving the place, now as a happily satisfied cum slut ;)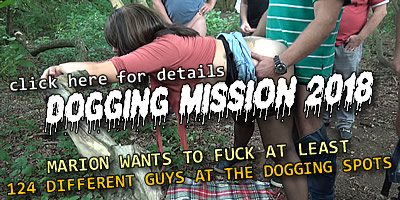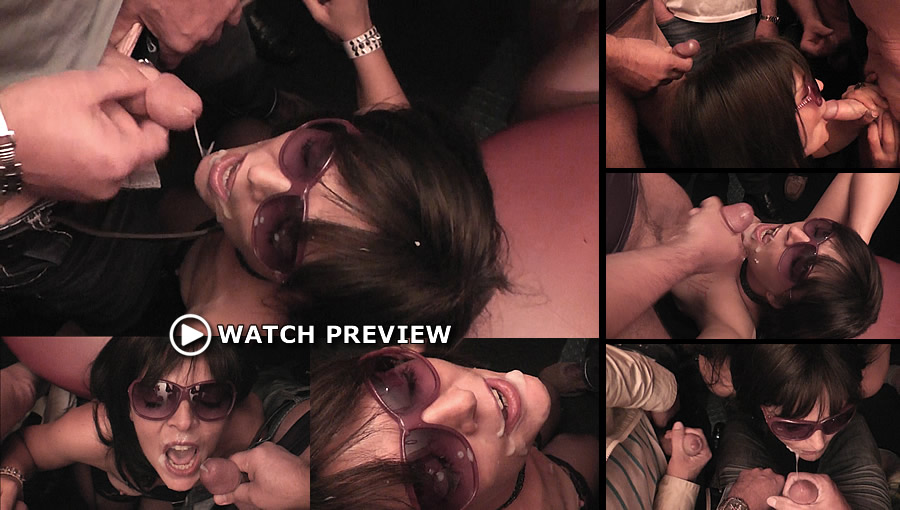 In this movie you can watch getting 20 loads on my face and in my mouth, filmed during a party night at the local swingers club. As usual I went dressed for the occasion and fully equipped – the dressing beforehand is a big turn on and always gets me ready for fun! As I arrived at the club I saw a lot of guys hanging around and I saw another girl currently lying on one of the tables and getting fucked by a few guys (you can watch some shorter scenes of this girl in the movie too). I didn't want to lose any time and went down on my knees, I just wanted to start the evening by sucking off some cocks and maybe getting some loads. What I really like about this venue is that if you want you can have sex anywhere that suits you, unlike some other clubs, there are no 'house rules' to say this or that area is off limits for sex and so I wanted to do the blowbang right there, in the main room, with me crawling around on the ground. Then my husband had the spontaneous idea to write CUM ON ME with my lipstick on my tits and that seemed to be a perfect starting signal for the guys. Quickly I was surrounded by plenty of guys, a true circle of cocks. During the next 30 minutes I sucked off many of them and got 20 loads in my mouth or on my face. This movie displays the entire blowbang. Enjoy.
Details: Duration 20 min. Format MP4. Quality Full HD and SD (950 and 200 MB). Download and stream.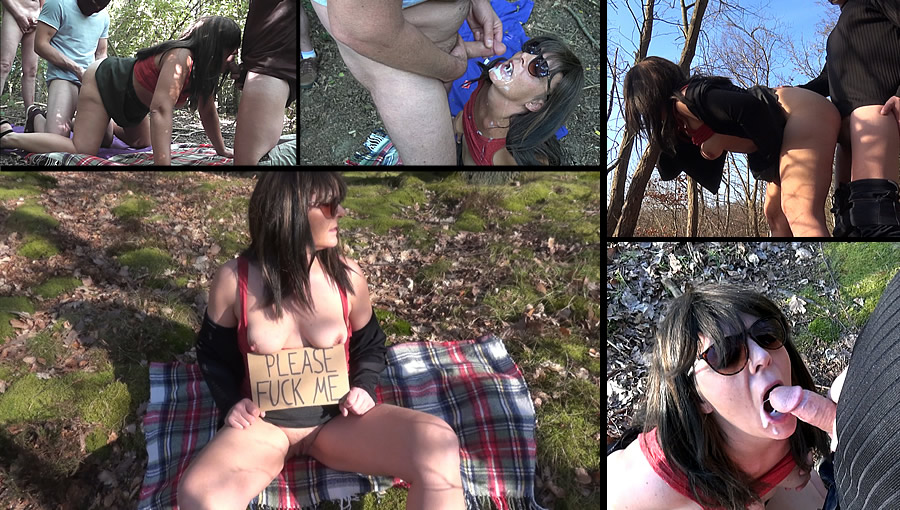 This is the final set of photos from this superhot dogging escapade, shot earlier this year in a public park, containing over 100 brand new pics. There is a discreet place not far away from my hometown, which is known as a dogging spot. In most cases I had found one cock or two to have fun with at one of the park benches or in the bushes, but not more, since usually this is not a very busy place. This time I came up with the idea to write me a sign with the words PLEASE FUCK ME on it. Yes, I know, that's too explicit actually, but I didn't want to waste time or let a cock pass by without noticing that I'm hot for him and this time I wanted to have fun with as much cock as possible. Hubby began to film me solo as I started playing with my tits and cunt and holding the sign. Only a few minutes I realised we had a spectator, standing a few steps away down the path and watching us. I showed him the sign... and then I learned that such a sign makes the things much less complicated. The guy came closer, groped my bare tits without saying a word. Quickly I sucked him off and then he did what the sign had told him. This guy was the first one in a line of coks that used me that day, with up to four guys fucking and creaming me at once. Of course there is also a corresponding movie from this escapade in the member area.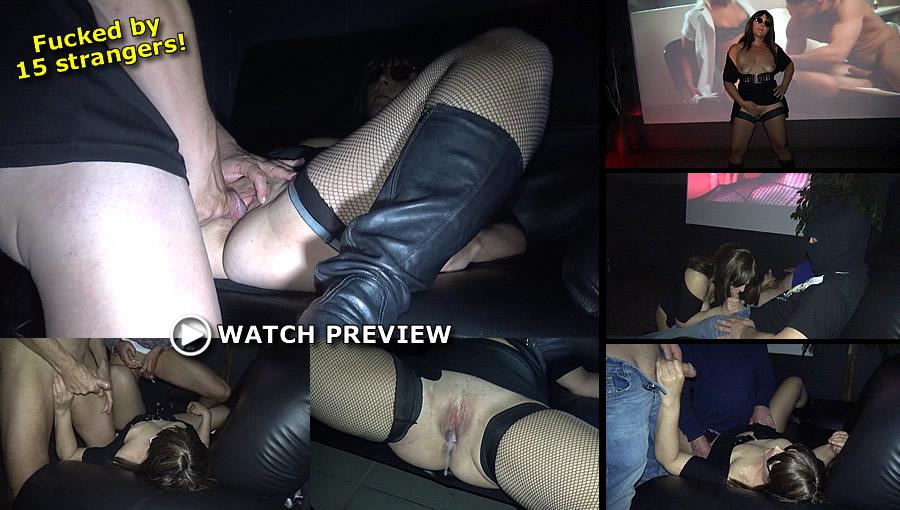 Eventually I wanted to go dogging outside that day, but the weather was too bad to visit the local dogging spots. But I was hot and wanted to get me some cock and cum and so I drove to the Xposed Theater again, which is at the highway and which I had visited several times before. This theater has a couple of gloryhole boothes and a few bigger rooms with cinema screens, where you can watch hot movies. I placed myself at one of these cinema rooms. And everything that followed now, was totally spontaneous and not staged action. I didn't post that at the party scheduler or anywhere else, I just wanted to take things as they come. I expected to find maybe two or three guys who are willing to give me cock and cum, but way off the mark! That evening I got a really HUGE bang with lots of strangers fucking me or getting sucked off. Partly there were up to 8 guys with me in the room, waiting for their turn. Guys who had bred me left the room and were quickly replaced by another one. My husband placed two cams beside the couch where I serviced all those strangers. This movie starts with me showing off at the cinema room and attracting attention and quickly sucking and fucking the first cocks and getting the first loads. All in all I was fucked and bred by 15 guys that afternoon. Not bad ;)
Details: Duration 22 min. Format MP4. Quality Full HD and SD (1000 and 200 MB). Download and stream.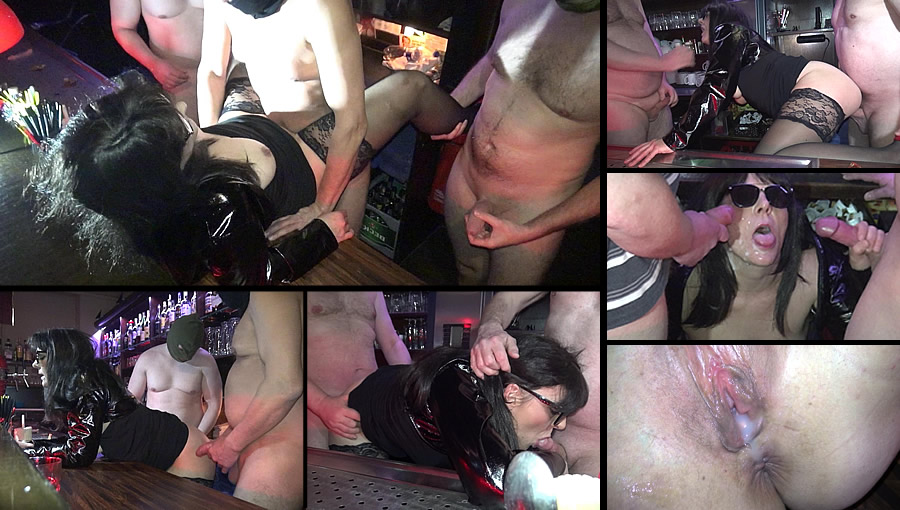 This is the first set of photos displaying the awesome gangbang at the public bar, which happened earlier this year. Just watch me getting banged by everybody, by the entire audience, right there at the counter and don't forget to watch the corresponding movie which you will also find in the member area. Of course this party happened outside the business hours of the bar. I know the owner of the bar (his name is Jack) for many years now and he always helps me out when I want to host a gangbang for my members and fans by providing me the bar. But what I really never had done at that place is to get a gangbang at the counter, right there where Jack usually stands and gives out the drinks. In this set you can watch me getting fucked and bred by Jack at first and then the next few guys replacing him, fucking me and creaming me. Now all the guys in the bar took turn on me, by either fucking my puss or mouth or both. I got so many loads, some in my mouth, some in my puss. All in all I got used by 13 guys all in all that night. As I said before... this was really a fantasy coming true... me as the bar maid, getting fucked by the entire audience.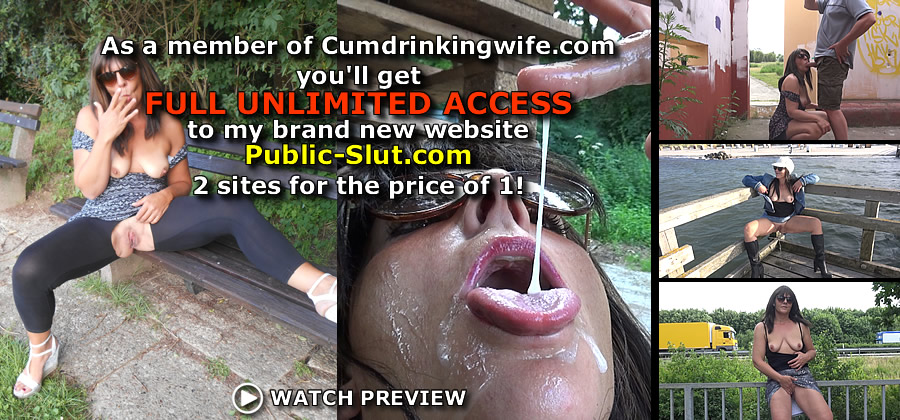 I'm proud to announce a brand new website today and giving all members of Cumdrinkingwife.com a huge improvement! The new website is called Public-Slut.com and members of Cumdrinkingwife.com have free and unlimited access to this brand new site! From now on, as a Cumdrinkingwife member, you'll get 2 sites for the price of 1 !!!
The public-slut.com website contains plenty of movies and photo sets showing me flashing in public, solo or with 1 or 2 guys escorting me, masturbating, peeing or having sex in public and doing risky things like public cum walks. The content of the public-site.com website is completely different from the content of the cumdrinkingwife website. So, you won't find a cumdrinkingwife movie on public-slut.com and vice versa.
From now on you'll always find a page with the login details to the public-slut website in the member area of Cumdrinkingwife.com
Click here to read more about my new website and the reasons why I have launched it.
| | |
| --- | --- |
| | |
...YOU CAN ALSO CHECK OUT THESE PAGES FOR MORE HOT STUFF...
********************************************************************
Billing Support: CCBill
18 U.S.C. §2257 Records - Customer Support - Webmasters click here to make $$$ - Banners - Links
© Copyright 2001-2018 cumdrinkingwife.com. All Rights Reserved.