My name is Marion, I'm a slutwife with a never ending hunger for cocks. Welcome to my life! I'm no girl of the industry, I'm a real woman, a real wife that loves to have fun with guys. Lots of guys. The more the merrier. Call me a true gangbang cum slut... I'm happy about that.

I started swinging 20 years ago and quickly my husband started to take pics and videos from all my kinky escapades. I had my first gangbang in 1997, my first gangbang with 20+ guys in 2000, my biggest gangbang was a party with over 100 guys. By the time I'm writing these words over 5000 guys have fucked and creamed me... and I'm still counting since I'm still doing dogging and gangbang escapades frequently.

On my website you always get TRUE REALITY PORN. Nothing is staged here. There are no scripts, no actors. My escapades take place at real public locations, such as Adult Theaters, rest areas, public beaches, clubs and pubs and so on. Most of the guys using/fucking/creaming me are real strangers... guys I've never seen before. Now lean back and enjoy my naughty swinging life. [read more]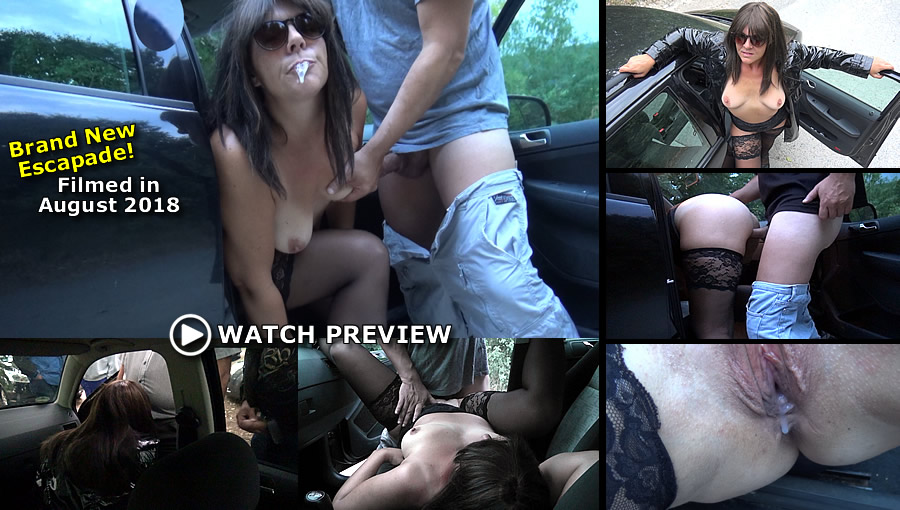 I was hot for cock and cum again and since the weather was fine I drove to the huge rest area not far away from the highway again. This is a perfect dogging area if you are a woman who wants to get laid by lots of strangers, since it is always a very busy place, especially in the evening hours. Many guys walking around at the rest area or its surrounding bushes and all of them are looking for quick casual fun. I arrived at 7 pm in broad daylight and started to attract attention by standing at the car, showing my tits and even lick off the doorframe of the car (you can see this in the movie too). But then I saw two guys coming nearer and I recognized them... these guys had fucked me two times before at this place. Well, that makes things much easier. Now I didn't need to talk to them, these guys knew that I'm just here to have much fun. A few minutes later I was sitting on the passenger seat, giving the first one a blowjob and then let him bang me. No need to talk, just fuck me. He shot his load in my puss and the second guy replaced him immediately. Attracted by this hot action, my car was surrounded by more guys quickly. Now a fine breeding gangbang began, with me on the passenger seat most of the time and with my ass out of the car and many cocks standing in line and waiting for their turn. Three hours later I left the place, now in total darkness and with lots of fresh cumshots in my puss. All in all I was banged by ten different guys, getting just as many creampies and sucked off a few more to completion. Just love to be a dogging cum slut ;)
Details: Duration 20 min. Format MP4. Quality Full HD and SD (800 and 160 MB). Download and stream.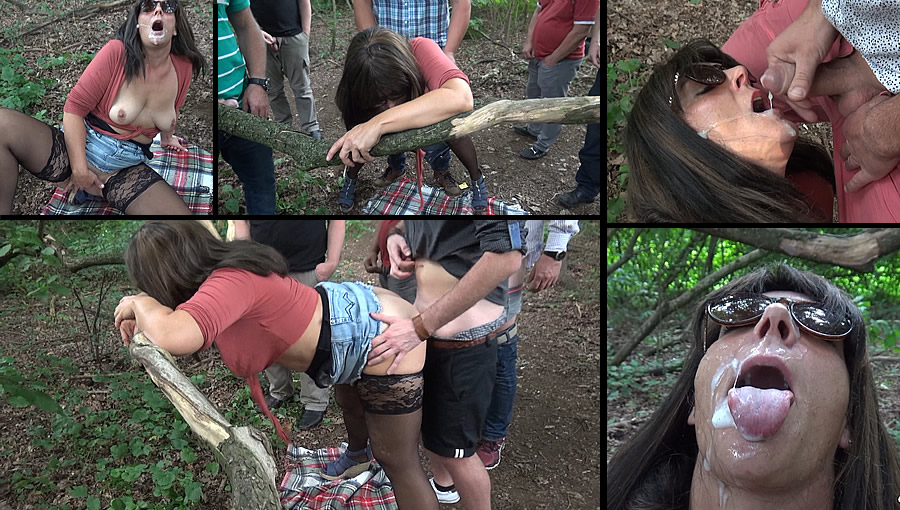 Set with nearly 100 new photos, displaying one of my most recent dogging escapades. Overall I sucked and fucked by 10 strangers in the bushes. Most of them used me twice, so I got nearly 20 loads this time. I returned to the highway rest area again, which is one of my favourite dogging spots. There are always many cocks walking around in the bushes right next to the highway. And all of them looking for quick casual fun, so it's a perfect place for me. This area is a well known place for doggers, so it's a busy place most of the time. Usually it only takes a few minutes until I am surrounded by cocks and then I'm going down me on my knees and start sucking off cock by cock, while the rest is wanking their dicks. Quickly I'm getting a few first loads on my face and then some other guys are fucking me while I'm standing bent-forward at a tree branch. Guy by guy they are sticking their cocks and fucking me. I love it. By the way, in the corresponding movie, which you will also find in the memebr area of course, you can hear the traffic from the nearby highway all the time. This is what makes me really hot... I'm getting banged by a group of strangers in the bushes while there are so many clueless drivers rushing on by. Just awesome.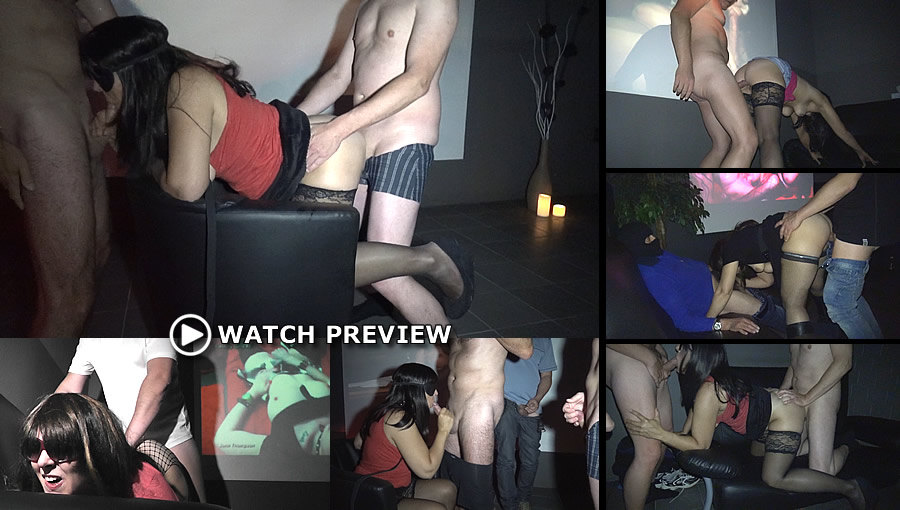 During the past two years I was a very busy slut at the local Adult Theaters. In general, Adult Theaters have a leg-up on other places: There are always guys hanging around who are looking for a slut like me, and who are usually happy when I am inviting them to use me, so I don't need to post when I'm heading to a theater. I can visit them spontaneously and get me as much cock and cum as I need. In the past I never felt very comfortable at theaters since they usually were old and dirty, smelly and ugly places. They were good for a quick bang but nothing else. But today it's totally different. There are several new theaters within my reach and most of them are huge and clean places with lots of smaller rooms, bigger cinemas and gloryhole boothes. These day my absolute favourite is the XPosed Theater, which opened its doors in 2012 and since then I spent many long afternoons and evenings at this place and had plenty of fun there, with plenty of guys. In this movie you can watch some of my most recent escapades at the Xposed Theater. All scenes were filmed by husband during the last two years, many of them are previously unreleased, since these scenes were not long enough to post them as a full movie. Remember that this is not staged. It's true reality porn shot in a real theater with real strangers using me. As you will see, I just love to be a total slut at the theater :-)
Details: Duration 20 min. Format MP4. Quality HD and SD (600 and 160 MB). Download and stream.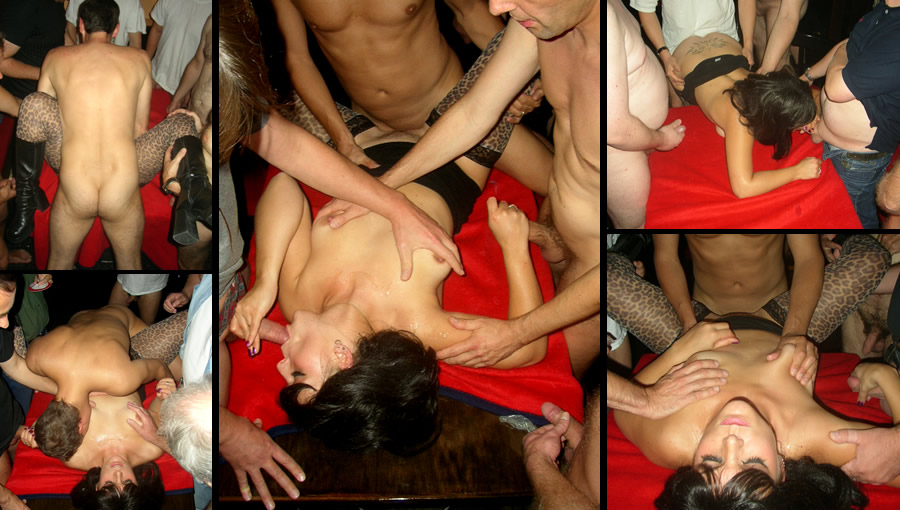 Photo set from one of my awesome gangbang exploits. Photos were taken during a special gangbang night at one of my favourite swingers clubs. There were 60 guys in the house that night and only a few girls. And as usual I was the only woman who really wanted to enjoy such a large number of cocks. So, at some point I just laid myself on a table, with my legs wide open and my bare puss inviting cocks to fuck me mindlessly. There is always a risk that nobody has the courage to accept the invitation but in this case my table was surrounded by plenty of cocks quickly. What now followed during the next 3 hours was another coma gangbang, where over 40 guys used me, by either fucking my cunt, my mouth or both or at least jerking their loads on my body and face. I still love to get used in this way. Guys I have never seen before are taking turn on me for hours and hours. I'm losing count, I am reduced to a piece of meat for all those bastards and that's exactly what I want to be at nights like this. At the end of nights like this I am totally exhausted usually, but I'm leaving the club as a happy and satisfied girl. Who's next?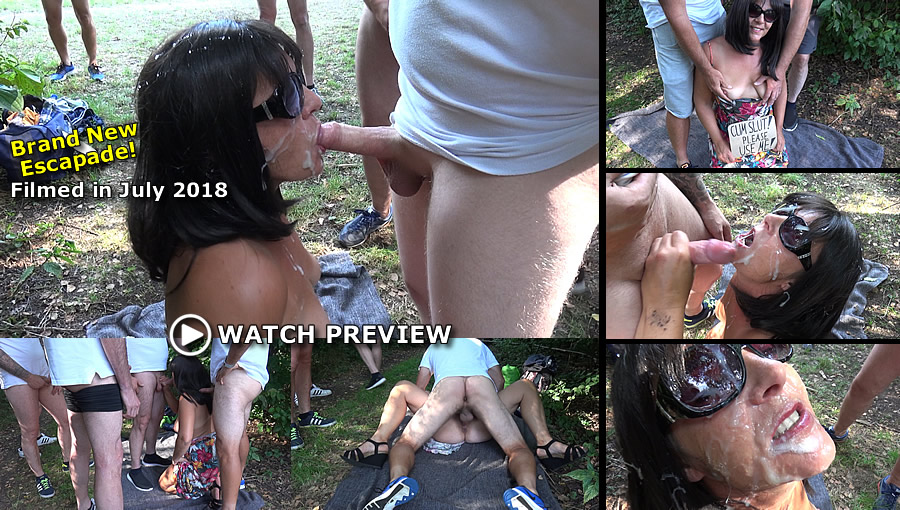 Two weeks ago I have uploaded a set of photos where you can atch me attracting attention at a lake with a handwritten sign in my hands, telling the guys: PLEASE USE ME. Now in this movie you can see what happened after I had attracted enough attention to get me much cock and cum. Movie starts with me still attracting attention. Guys were passing by, staring at me, reading the sign, keep on moving, but some of them were hesitating and then turning around and coming back to my place right next to the lake. Then it only took a few words ('Yes, I want your cock, but my partner wants to film it, deal with it or have a nice day') until the first guy starts to play with my tits and then a second one, you can watch this in the movie too. Then I am surrounded by more guys quickly. But I can't let them use me at the lake itself, the place is too exposed, so I'm walking to the surrounding bushes and the guys are following me. Now I am on the ground, sucking off cock after cock. More guys arrive and are standing in line to get their free blowjob and a fuck. Some of them fuck me doggy and missionary. I'm getting load after load. At the end my face is heavily drenched in cum. All in all 12 different guys used me that afternoon, some of them twice. A fantastic new dogging escapade!
Details: Duration 20 min. Format MP4. Quality HD and SD (850 and 180 MB). Download and stream.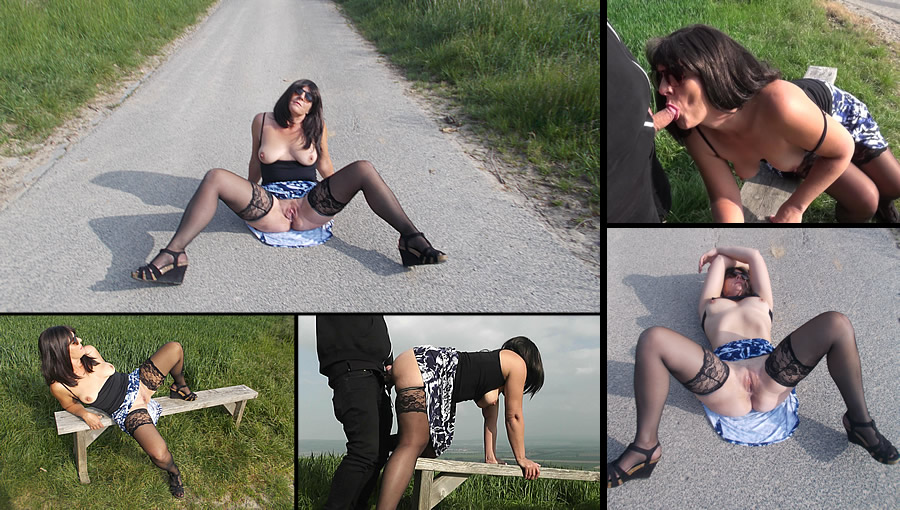 This set of photos was shot in May 2018, during a totally spontaneous outdoor escapade. You know, beside my swinging and dogging escapades where I usually get laid down by multiple cocks, I just love to explore new public areas that are really not intended to be the place fa porn movie. This time I was on the way to a more busy dogging spot to have some fun. My husband drove the car and a friend of us escorted us, a guy named Carl, who sometimes escorts me when I go dogging. But then I saw that small road leading upwards to a wooded area on a hill. Before I we had missed the exit to the road and so I told my husband to turn a car around since I wanted to explore that place. Before we arrived at a scenic outpost, we saw that bench at the country road. My husband stopped the car, got out his camera... and the photos in this set are displaying what happened next. You can watch me sitting and lying on the road and on the bench and even getting a quick cock in my mouth and puss. Very risky moment, very exposed position, but some great pics in this set. Right after this we drove on to the scenic outpost, where both cocks used me multiple times. We have already uploaded a movie a few weeks ago, where you can watch me getting used at that place.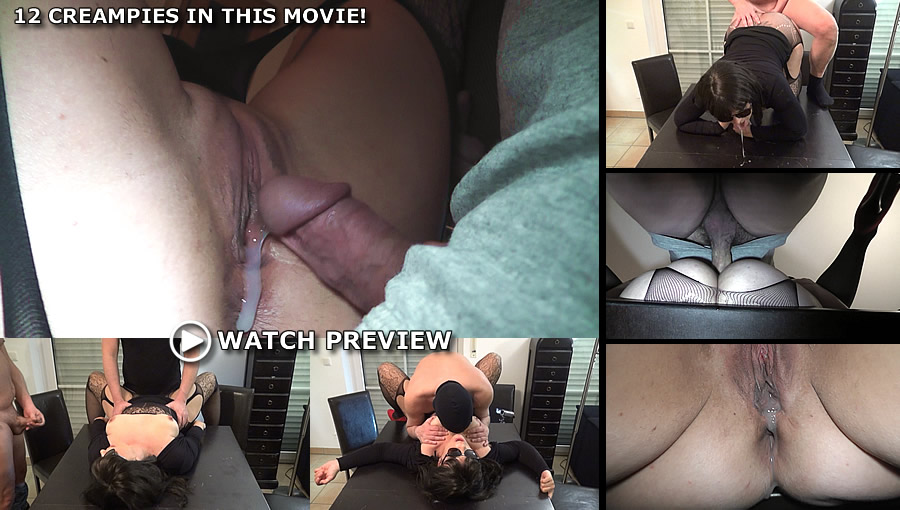 Now here is the movie we have filmed earlier this year during a friday night breeding orgy with four guys at our house. And good lord... did these guys bang me good or what? Four cocks only, but during this non-stop four hours fucking party all of them creampied me multiple times. At the end I had 12 creampies in my puss and all of them are shown in this movie. Fantastic breeding scenes and creampie close-ups here... if you like watching cumshots dripping out of a puss, you will love this movie. During this orgy I had 6 tremendous own orgasms, as these guys took turn one me and fucked me again and again. You will see all of my climaxes in the movie too. One of the guys even cleans my cum drenched puss with his tongue, eating the loads of his mates so to speak. I have another huge orgasm as he is doing it. All of these guys were long time lovers of mine. I invited them for a sex party at our house. The orgy began at 8 o'clock and lasted until midnight and during these four hours of non-stop fucking and breeding we have recorded so much footage that we could give you tons of movies, but we decided to cut the footage down to one movie with all important scenes. All creampies and cum play are in this movie, all orgasms and lots of fucking action of course. Enjoy this awesome breeding movie.
Details: Duration 33 min. Format MP4. Quality HD and SD (920 and 270 MB). Download and stream.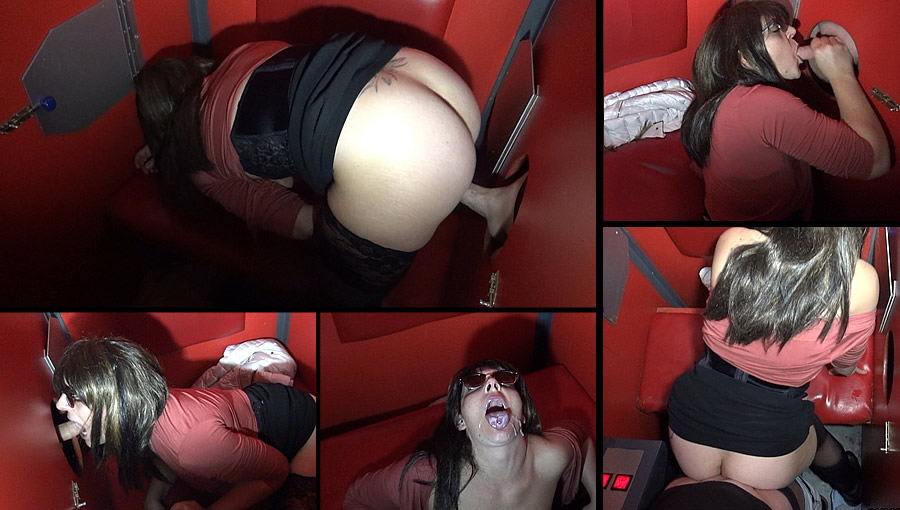 This photo set contains over 100 new pics, as usual, and shows me serving plenty of cocks at a gloryhole videobooth, shot during one of my most recent visits at one of the local Adult Theaters. Once again, these photos and the corresponding movie are not staged. It's true reality porn filmed at a real porn theater and with real strangers at the other side of the wall. Since the weather was too lousy to enjoy some cocks outdoors I decided to visit one of the local porn theaters. There are always more than enough guys to satisfy my needs. At this theater there are three boothes next to each other, all three with gloryholes in the walls for uncomplicated fun with casual encounters. I went into the middle booth, so now I had two gloryholes, one at the left and one at the right wall. I locked the booth door and then I started serving all guys who wanted to be served. I placed a cam which filmed the entire session. What now followed was an improving and totally unexpected gloryhole gangbang, where I sucked and fucked and jerked off tons of cocks at the hole and even inside my booth. All in all I serviced 20 cocks within 2 hours. Awesome!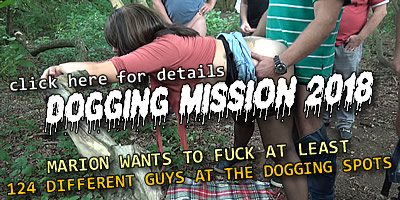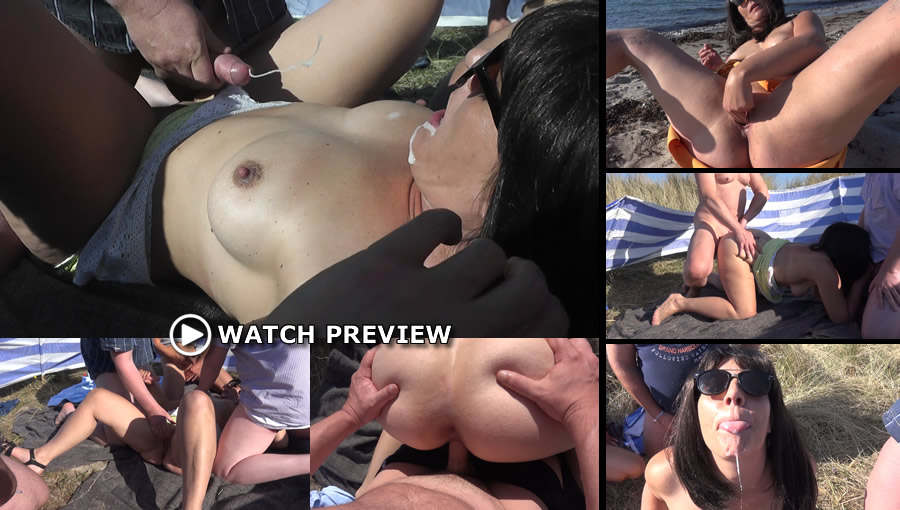 This brand new movie was taken during my first holidays on the beach in May 2018. We have uploaded the first movie of this bang in May, but now here is the second and final movie of this great beach gangbang in the dunes, displaying the second half of the bang. I had a few days off in May and decided that it's time for another short vacation at the sea. I returned to the nude beach where I had had a gangbang in 2015 and 2016. This place is probably the best beach I know to get laid down by strangers in the dunes or on the beach itself. It's never a busy place but it's known as a dogging spot and so I know that there are always guys hanging around in the dunes who are probably looking for casual sex with other people. After I got laid down by several strangers in the dunes, which you can see in the first movie, I still hadn't enough and wanted much more cock and cum. This second movie starts with having a bath in the ocean and then fucking myself with my fingers right there on the beach, in full view of everybody. Attracting attention... you know? I return to my place in the dunes and quickly I am surrounded by a group of cocks again. Now I get another bang on the beach, with the next few cocks using me and some of the guys who used me during the first bang take the chance and fuck or cream me a second time. All in all I got laid down by 8 different guys that afternoon. Another awesome beach orgy!
Details: Duration 22 min. Format MP4. Quality Full HD and SD (950 and 200 MB). Download and stream.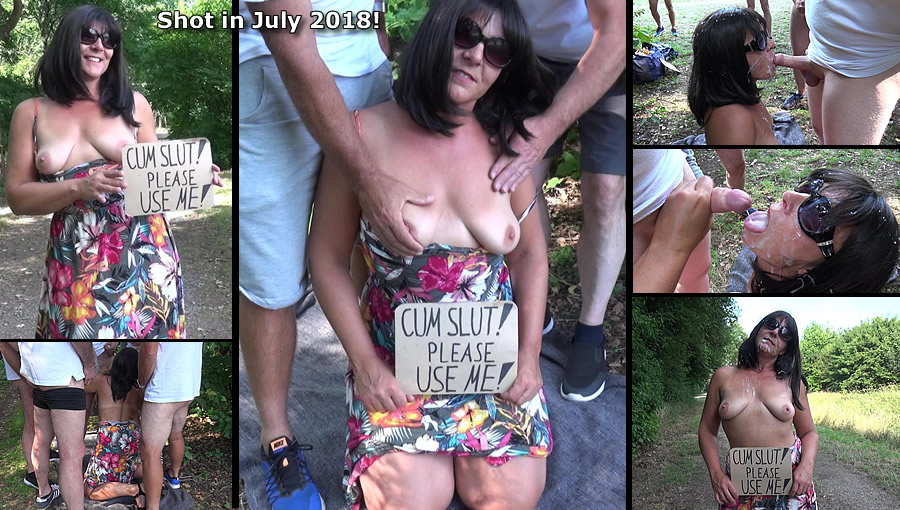 Oops, I did it again ;) Remember the movie and photos I have added two months ago, where I was looking for cocks in a park, holding a sign in my hand, with PLEASE FUCK ME written on it? Well, that was such a successful escapade that I did it again now, in July 2018, but with another sign and at another place. This time I tried to attract attention at a lake and the sign told the guys at this dogging area, that I am a CUM SLUT! PLEASE USE ME! The first 20 of the nearly 100 photos in this set are showing me parading at the lake, holding the sign, with bare tits. Guys are passing by, staring at me, reading the sign, keep on moving, but some of them are hesitating and then turning around and coming back to my place right next to the lake. Then it only takes a few words ('Yes, I want your cock, but my partner wants to film it, deal with it or have a nice day') until the first guy starts to play with my tits and then a second one, which you can also view in this set. Quickly I am surrounded by more guys and now I want their cocks... all of them. But I can't let them use me at the lake itself, the place is too exposed, so I'm going in the surrounding bushes and the guys are following. In the second half of the set you can see what happens now. Me on the ground, sucking off cock after cock, getting load after load. At the end my face is heavily drenched in cum. After that I was also fucked by many of them, right there on the ground, but just prepare for the movie of this escapade which is coming soon and and which will display the entire escapade from start to end.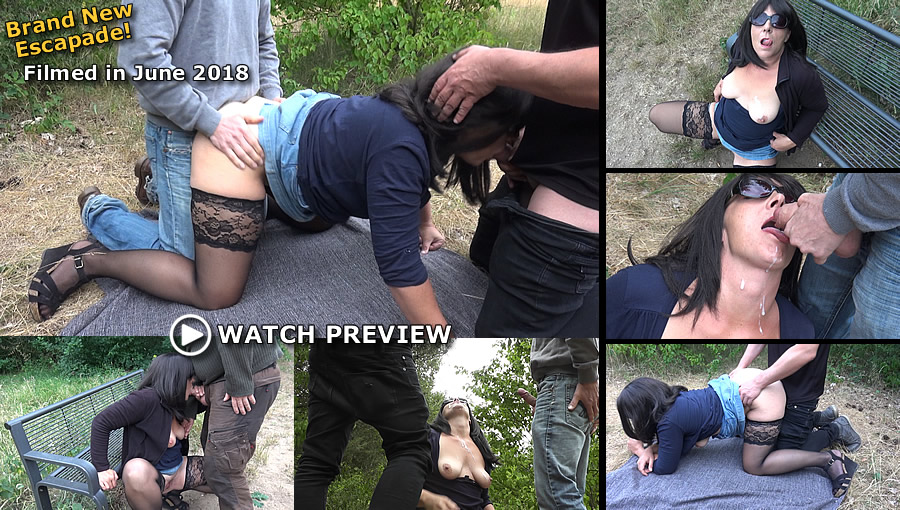 You know I love dogging. I am cruising the local dogging spots for many years now and so I always thought to know any dogging spot within a radius of 100 miles around my hometown. Guess what? I was wrong. Last month I discovered a new and amazing dogging spot only half an hour away from my home. An urban park with lots of park benches and small pathes leading from here to there. I read about this park on a website for swingers and outdoor sex and couldn't believe that this place really should be place for doggers, since I knew that park and never had seen any doggers there. Nevertheless I just tried it out in June 2018 and what can I say? I was completely wrong. There is a small lake and when you follow the primary route to the end of this lake there are two benches side by side and a small path leading from these benches to the bushes... and to the probably largest dogging area I have ever seen. An endless wooded area traversed by dozens of pathes, a few bigger clearings, completely protected from prying eyes. A true paradise for doggers! To cut a long story short: This time I had fun with only a few strangers. I am sucking them off at one of the benches and later I get fucked by some of them in the bushes, getting a few great loads. But be sure that this was not the last time I was dogging at this fantastic new outdoor place... I'll return to fuck many more cocks there!
Details: Duration 20 min. Format MP4. Quality Full HD and SD (900 and 200 MB). Download and stream.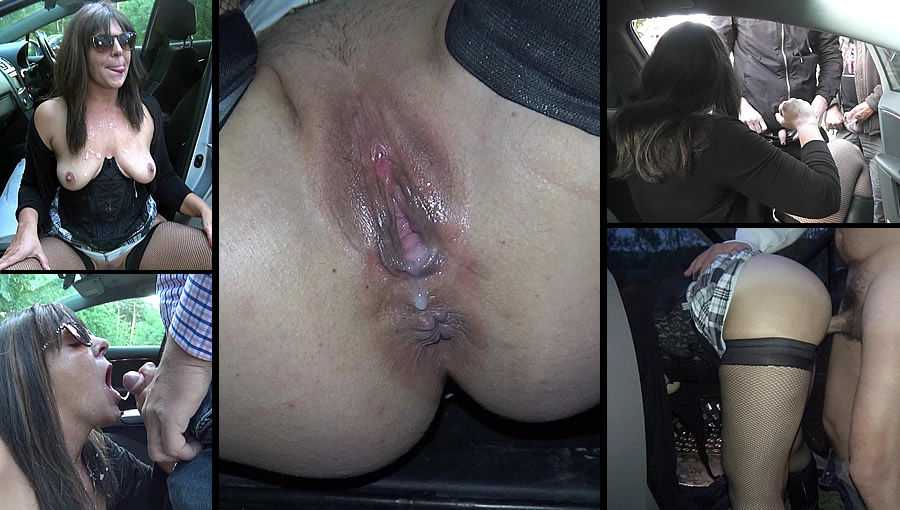 This is a photo set with 100 brand new pics, showing me getting barebacked by many strangers in a wooded parking lot. Before that day I never got banged by so many guys at rest areas or car parks, but this time over 15 guys fucked me. All of them were strangers I had never seen before. Some of those guys only got sucked off by me and shot their loads in my mouth but most of them fucked me while I was lying on the passenger seat or standing beside the car and many of them bred me. The bang started in the early evening in broad daylight and ended a few hours later in total darkness. This is funny, while watching the photos (or the corresponding movie by the way) you can see that it's getting darker and darker, cock by cock. But I didn't stop to be the cum slut for everybody until there was no was no one left at the end. This time I tried out another and smaller rest area, but which is also known as a good dogging spot. I quickly realised, a smaller place doesn't mean there are fewer cocks. As the last one was gone I was still so hot, I wanted to continue the bang with more cocks fucking me, but there were no more guys in sight. Too sad. Don't forget to watch the corresponding movie which you will in the member area too.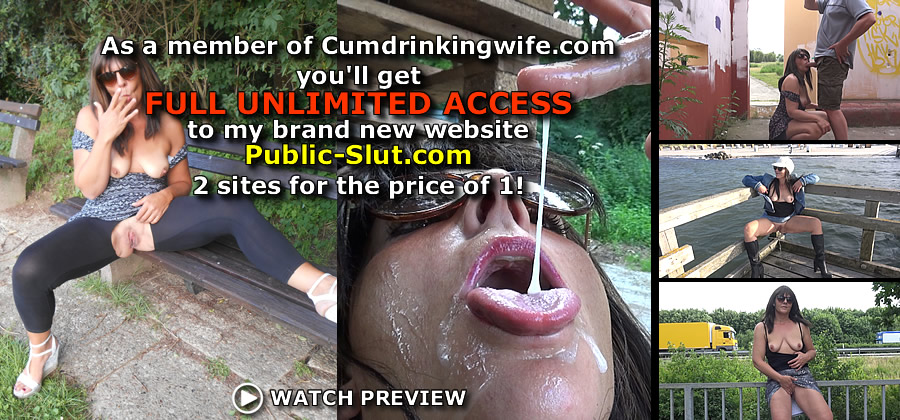 I'm proud to announce a brand new website today and giving all members of Cumdrinkingwife.com a huge improvement! The new website is called Public-Slut.com and members of Cumdrinkingwife.com have free and unlimited access to this brand new site! From now on, as a Cumdrinkingwife member, you'll get 2 sites for the price of 1 !!!
The public-slut.com website contains plenty of movies and photo sets showing me flashing in public, solo or with 1 or 2 guys escorting me, masturbating, peeing or having sex in public and doing risky things like public cum walks. The content of the public-site.com website is completely different from the content of the cumdrinkingwife website. So, you won't find a cumdrinkingwife movie on public-slut.com and vice versa.
From now on you'll always find a page with the login details to the public-slut website in the member area of Cumdrinkingwife.com
Click here to read more about my new website and the reasons why I have launched it.
| | |
| --- | --- |
| | |
...YOU CAN ALSO CHECK OUT THESE PAGES FOR MORE HOT STUFF...
********************************************************************
Billing Support: CCBill
18 U.S.C. §2257 Records - Customer Support - Webmasters click here to make $$$ - Banners - Links
© Copyright 2001-2018 cumdrinkingwife.com. All Rights Reserved.