My Name is Marion, I'm a slutwife with a never ending hunger for cocks. Welcome to my life!

I'm no girl of the industry, I'm a REAL wife and I have sex with REAL men, not actors. So this is a REAL site about my life. And my life is about having sex with as many guys as possible. I'm cruising the nation to suck off and fuck every guy I meet. I love to eat cum. I love gangbangs, I love bukkake, the more cocks and cum the merrier.

There are no staged settings, NO FAKED PLACES, only real guys fucking me at real public locations, such as adult theaters, pubs, bars, clubs, carparks, woods etc. My husband always escorts me, he loves to film all the dirty things I'm doing with the many 100s of cocks. [read more]

Another brand new escapade, filmed on November/25/2016 at one of the local Adult Theaters. Movie starts with me leaving my car and walking to entrance of the theater, then you can see me walking through the showroom, before I pay the bill to enter the cruising area. This theater is a huge one, with several big screen rooms, lots of video boothes and some dark rooms. You can have fun wherever you want. An awesome place for a whore like me, since usually there are no other women at places like these. Only guys hanging around there, watching porn movies, sometimes with their hard-ons in their hands. I'm losing no time, I'm sitting down at one of the big screen rooms and I don't have to wait long until I have a first cock in range, then a second one. I suck and fuck them both. Afterwards I cruise to one of the dark rooms, you can watch me doing so, since the cam is following me. I placed myself on some kind of a stand, now in perfect position to easily get fucked by every guy who want to fuck me. Again I don't have to wait long, before I have the first cock in my puss and two other to suck off simultaneously. A second cock replaces the first one, now there's a line of cocks waiting for their turn and at the end of the bang I got fucked by over 10 guys. Great! Once again, this is not staged, it's true reality porn. All of the guys fucking me are strangers, not actors. Enjoy.
Details: Duration 24 min. Format MP4. Quality HD (700 MB). Download and stream.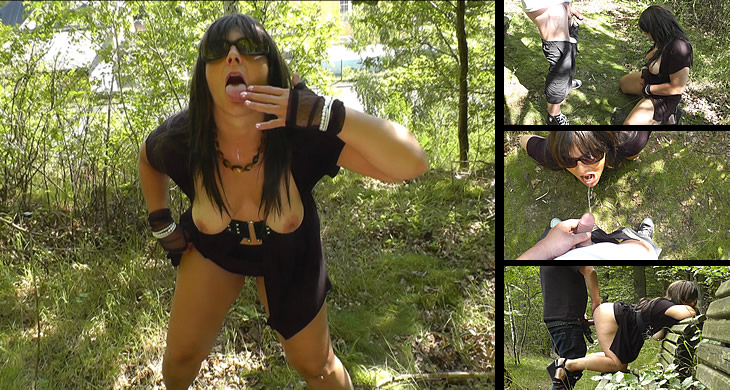 Kinky photo set containing a lot of pics shot in a public park. It was a hot summer day and I returned to have some more fun in the public park. You know, it's the place where I had some fun several times before, a small well known dogging area for casual enounters. This time I was cruising around at the park benches, looking for cock, and I was glad to find some guys who wanted to help me out. They fucked me right there in public, on and around the park benches. But this time I was ready for more. As I said, it was a hot day and that's why I needed a shower. A shower of pee. So, two of the guys also let their bladders loose on me as I kneeled on the ground. One of them even pissed me on while I was lyingon the ground, right before he started to fuck me missionary. It was awesome. Now watch me receiving gallons of pee in a public park. Yummy. The corresponding movie with all pee scenes is also available in the member area.

This movie gives you the second half of the awesome gangbang at the lake two months ago. I got banged by plenty of strangers this time. This was filmed at a lake that is known as a good dogging spot, where sluts like me always find some fresh meat. In the first part you could see me showing off at the lake, showing my tits to attract some attention. Later I walked into the bushes where I was surrounded by some guys quickly. The bang started, while the crowd grew up and all these strangers stood in line to fuck my mouth or cunt. Now in this second and final movie the gangbang continues after a short break, where I return to the lake to attract some attention again. I quickly switch into the nearby wooded area again, where I want to continue serving all men who want to be served. The second part of the bang starts and again I'm getting fucked by some strangers, most of them do me doggy, they are spit-roasting me and I get a couple of huge loads to swallow. This was another awesome outdoor escapade, I just love to be dogging slut.
Details: Duration 20 min. Format MP4. Quality HD and SD (560 MB and 230 MB). Download and stream.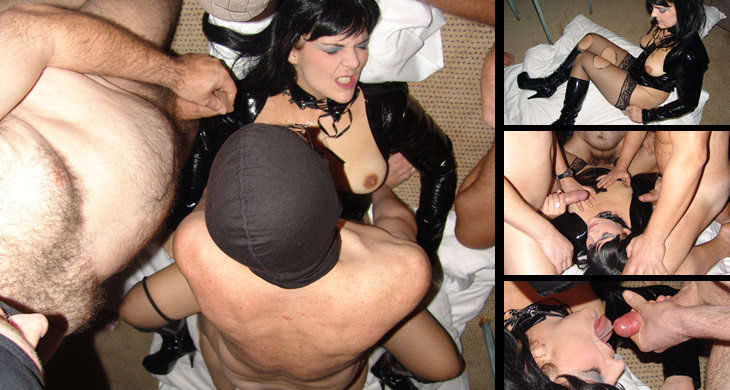 It's been a while since this hot birthday gangbang happened, but now we finally made it to give you the this set of high quality pics. As the title says... it was my birthday and I wanted to celebrate it with a steamy gangbang. I don't need birthday gifts, I only need some cocks that bang me into coma. My husband booked a hotel room and he also did the rest of the arrangements. He placed an announcement at the party scheduler, he invited the guys, he did all to make the guys and me feel comfortable. As usual for hotel gangbangs, we had to limit the number of guys who could join the party. It's not possible to invite 20 or more guys to a hotel party. No one knows what we are doing at the hotel room and we don't want to arouse attention. So my husband only invited 10 guys to gangbang me and believe me, over the next few hours these dudes really fucked the shit out of me. Even my stockings were completely destroyed quickly. We didn't film that night, there are only these photos that give you a fair impression of the party. Lean back and enjoy ;)

This is a brand new movie once again, it was filmed on November/04/2016. I hosted another huge gangbang party at the club for me and only for me. One woman, plenty of guys. That's how I want it, that's what I call a true gangbang. I shared all informations about this party in my member area, so everybody could join the bang to fuck and cream me. As usual I went dressed for the occasion and fully equipped – the dressing beforehand is a big turn on and gets me ready for fun! As I arrvied at the club I already saw some guys waiting for me and during the next twenty minutes the crowd grew up to over 20 guys, most of them first-timers who never met me or any other gangbang party. I didn't want to lose any time and went down on my knees, now sitting on the ground and started sucking off some cocks. What I really like about this venue is that if you want you can have sex anywhere that suits you, unlike some other clubs, there are no 'house rules' to say this or that area is off limits for sex. And so some guys now fucked me on all fourth, right there on the bench. Then I switched back to my knees, now surrounded by plenty of guys, a true circle of cocks. And man, during the next minutes, all of them shot their loads in my mouth or on my face. And all you can see in this movie was only the beginning of the party, there was a lot more action to follow (movie of what happened later that night is coming soon).
Details: Duration 20 min. Format MP4. Quality HD and SD (530 MB and 230 MB). Download and stream.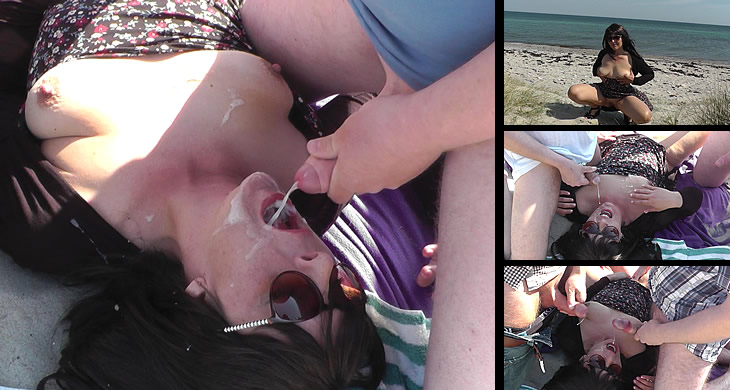 This photo set was taken during my first holidays at the sea this year, which was in early summer 2016. This is me getting drenched in cum while lying in the sand. All of these guys had fucked me shortly before since I had attracted attention quickly as my husband started to take some flashing pics of me fooling around on the beach. Soon I found myself in the dunes and I got to work on serving the men who wanted to be served. They fucked me raw and now I was hungry for their loads. This photo set with about 100 pics contains all these cumshot pics. Within a few minutes five guys jerked their loads into my greedy wide open mouth. Great pics here, you can watch load after load flooding my mouth until the jizz nearly brims over. This is what a true cum slut like me really wants: Just lying there and getting filled up with cum... the more the merrier. This time it was even topped due to the fact that this great bukkake was on a public beach. I need more of this. More cum. More cocks. More public escapades.

This is the second and final movie filmed at the mountain lake this summer. This movie contains the breeding part of this hot afternoon. During this summer I was curious to explore some great new dogging spots, places we picked out on different swinger sites, where I could have some kinky fun. One of these places was a mountain lake or rather a gigantic lake district, with dozens of smaller lakes, all surrounded by thick wood and each lake seemed to be a perfect dogging area for me. Not many people there, small pathes leading from lake to lake, a great place. I strayed for a while, the area was really huge, so I just let down at the next lake I arrived and just started to play. It was a wonderful day and I had so much fun. In this movie you can see me showing off and flashing, pissing, sucking cocks, getting multiply fucked and finally getting two wonderful creampies. Great breeding scenes in this movie, amazing to watch the loads dripping out of my cunt. I love sloppy seconds.
Details: Duration 20 min. Format MP4. Quality HD and SD (520 MB and 220 MB). Download and stream.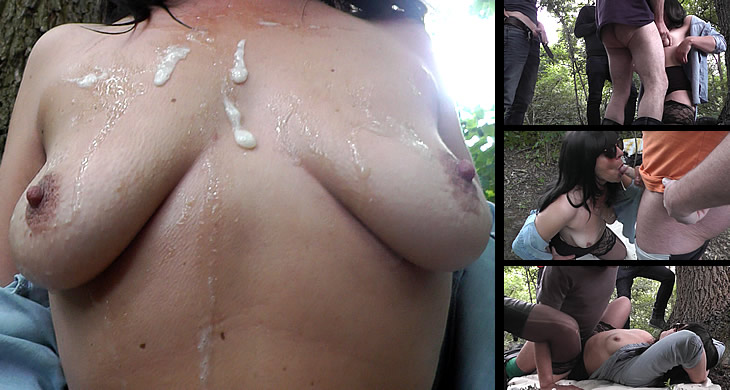 This is a photo set from a dogging escapade a few months ago. I parked my car at the highway rest area, it's a place which is known as a good dogging spot for casual encounters. I saw the car parks were full and I saw some single males sitting in their cars and walking around. I never know wether guys like these are looking for fun or not, but I know that it's easy to find it out. I walked into the woods, slowly and slinky. Was I being followed? In the bushes I laid out my mat and got on my knees and I saw some guys following me and quickly was surrounded by some eager men. I quickly got to work on serving the men who wanted to be served. There were maybe 10 guys standing amidst the trees, some of them with their pants down and wanking their cocks, while I sucked off the first two strangers. I proceeded to orally pleasure the next three guys and got fucked by another one right there on the ground. I stayed there for about two hours and all in all I sucked off 10 guys that early evening, swallowed five loads and got a few more on my tits. Successful dogging day ;)

This was filmed on October/28/2016 at one of the local Adult Theaters, so I guess you'll agree that this is really brand new once again. It was a spontaneous decision to drive to this theater. I had not much time that day but I wanted to enjoy some cocks and the best place to get me cock and cum promptly are Adult Theaters. I arrived in the early evening and wasted no time. There was a group of guys staring at me as I walked into one of the big cinema rooms. My husband started filming me in front of the big screen and soon I chatted with them and then a guy came up who was from the group and escorted me to a leather couch, where I began to give him head immediately. The men moved in then one by one, now there was a group of four guys in the room. Hubby then locked the room (this is one of the few theaters I know where you can lock up the cinema rooms), remember I had not so much time. So, four guys should be enough. Each guy was given a deep blow job and I offered them the option to fuck me and that's what they all did. I got fucked by all of them, got two creampies and two facials. But the climax definitely was the awesome double penetration, as two of the guys fucked me in ass and puss simultaneously. That was a great quick evening at the theater!
Details: Duration 23 min. Format MP4. Quality HD and SD (650 MB and 260 MB). Download and stream.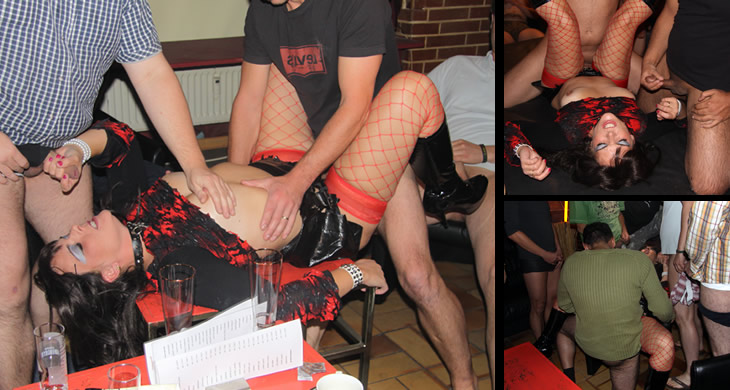 This photo set contains many high quality HD pics and shows the huge gangbang at the capital. I do not normally post when I'm heading to a swingers club. I just visit these clubs when I'm hot and then I let things take their course. This movie was filmed during one of my visits at the Capital. Last time I was there I tried out a porn theater (movie of this gangbang is also available in the member area), but this time I wanted to check out one of the capitals swingers club. And I wanted to start the visit with a HUGE bang! I wanted to be able to say 'I've been fucked by at least 20 guys at the Capital' and so I intended to stay at the club until 20 guys had laid me down. And men - that is what I did exactly. Once arrived at the club I lost no time. I was dressed like a total whore and went straight to the largest room. I was surrounded by some willing cocks quickly. I only let guys fuck me who didn't mind being caught on cam. I stayed at the club for almost 4 hours and then I made it: I got fucked by 20 guys at the capital :)

Three days ago I gave you the photos taken on the beach on September/01/2016, showing me attracting strangers. Now this movie starts only 15 minutes after my husband had taken those photos. As you will see I was successful in attracting attention. A couple of guys are standing at my place on the beach, staring at me, hesitating. I'm telling them I want to have fun and my husband give them masks to put on, because he wants to caught it all on tape of course. I begin sucking off two guys, a third one joins the party quickly and then they are all mounting me, one after another. A short break, then a new guy and one of the predessors nail me again, now I'm lying on my back and these bastards fuck me roughly, nearly into coma. One of them shoots his load in my mouth and after that you can watch me walking at the water's edge with his cum on my face. Movie ends with another threesome where a new guy - an older man, about 60 yo - is fucking me and then another one is breeding me. Nice sticky creampie at the end of the movie. Please note, all of the action was done right there on the beach, with a direct view on the water. It's true beach sex with true casual encounters. I loved it!
Details: Duration 22 min. Format MP4. Quality HD and SD (620 MB and 250 MB). Download and stream.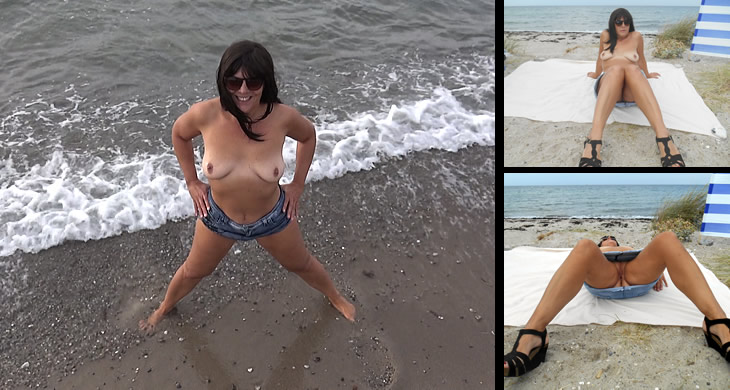 In late August and early September 2016 I had a lot of fun during my summer holidays at the sea. This photo set, which was shot on September/01/2016 simply shows me showing off on the beach. You can watch me sitting and lying on my beach towel first, and later I'm posing at and in the water. Of course I don't wear a bikini bottom... I never wear bottoms on beaches, I like the idea that my puss is always ready to get filled up with cock and cum.This time I only wore a jeans skirt and nothing else. This is how I like to attract attention of course. I'm posing on the beach, my husband is taking some pics and that's usually good enough to get some attention. Then the guys who are lying in the dunes know that there is a some kind of slut lying in the dunes. A slut who is probably ready to have some fun. And of course that's exactly what happened here. Only 10 minutes after my husband had taken the last pic of this photo set, I sucked off two cocks in the dunes and that was only the start of an awesome afternoon where I got laid down many times, by many guys. But that's another story and another movie (my husband has caught everything on cam of course) we will give you later on.
| | |
| --- | --- |
| | |
...YOU CAN ALSO CHECK OUT THESE PAGES FOR MORE HOT STUFF...
********************************************************************
Ressources:
Billing Support: CCBill
18 U.S.C. §2257 Records - Customer Support - Webmasters click here to make $$$ - Banners - Links
© Copyright 2001-2016 cumdrinkingwife.com. All Rights Reserved.